In our interview series "Catching Up!", we look into our PREFARENZEN address book that has steadily grown over the years to start a conversation with architects or architectural offices we featured in one of our previous publications. In this first edition, we sat down for a chat with Christian Mang, head of the Lower Austrian firm Mang Architects with their head office in Furth bei Göttweig. The Weinkompetenzzentrum (i.e., a competence centre for winery) in Krems was planned and realised by Mang and made it onto the cover of our inaugural PREFARENZEN architectural book back in 2015. In our interview back then, Christian Mang vehemently argued for the educational mission that contemporary architects have for future generations. Five years later, his work ethic has not changed, which is why we talked with him about a recently finalised and exemplarily sustainable elementary school project, among other things.
Competence Centre for Winery in Krems, Lower Austria
Tinsmith company: Hintenberger Ltd.
Material: Prefalz
Style: plain aluminium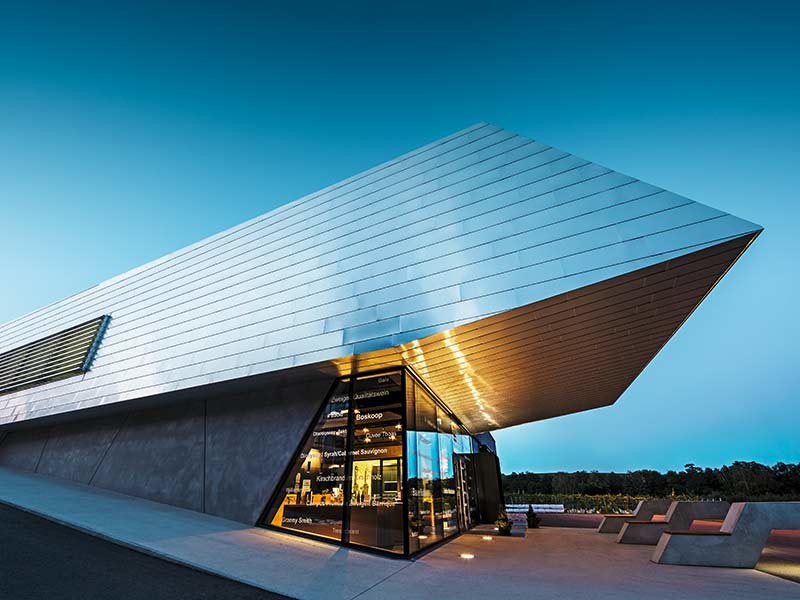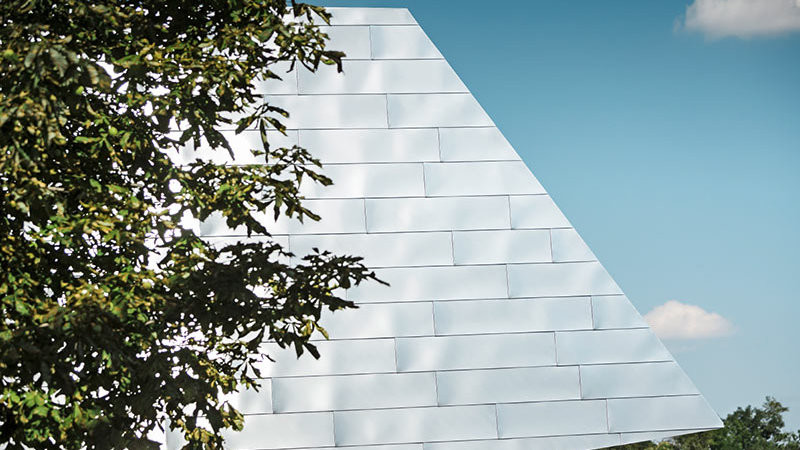 The Competence Centre for Winery in Krems is a school for wine producers and is located between the natural setting of the Wachau and the urban periphery. Here, instructors, students, interested visitors and winemakers come and go. In addition to the winery with its seminar rooms and a wine testing laboratory, a sales area is integrated in the building, which playfully unites aspects of wine production with those of quality control under one roof. Similar to the green lizard that is very typical for the region, the decision was made to use a 'metallic outer skin'.
We are living in a time when many architects play it safe work-wise, with the result that architecture is being produced that omits anything that cannot be explained from an economic perspective because the production costs are often the determining factor in subareas of architecture. On the one hand, this is a challenge, on the other, it is also a shame in terms of the visually sustainable design of our built environment. We should be moving more in the direction of a quality over quantity approach.
The competence centre for winery in retrospect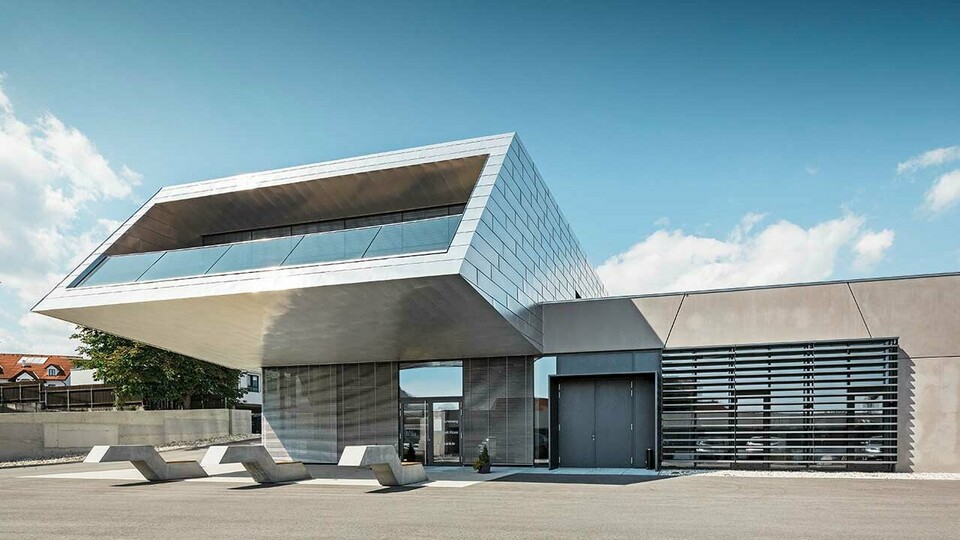 Just like Mr. Mang, the operators of the competence centre for winery under director Faltl are still very proud of the building and its glossy outer appearance. "That mainly has to do with its blank aluminium façade and its natural texture," as Mr. Mang explains. He adds that "the competence centre for winery still has – I don't want to call it a unique feature – but it certainly has a special position in this environment of plastered surfaces."
It is important for me to always convey an appealing sense of space to children and adolescents. They should experience the appeal of sophisticated architecture, so they can differentiate in qualitative terms later in life.
Elementary School in Sierndorf, Lower Austria
Tinsmith company: Drascher Ltd.
Material: 2000m2 Prefalz
Style: bronze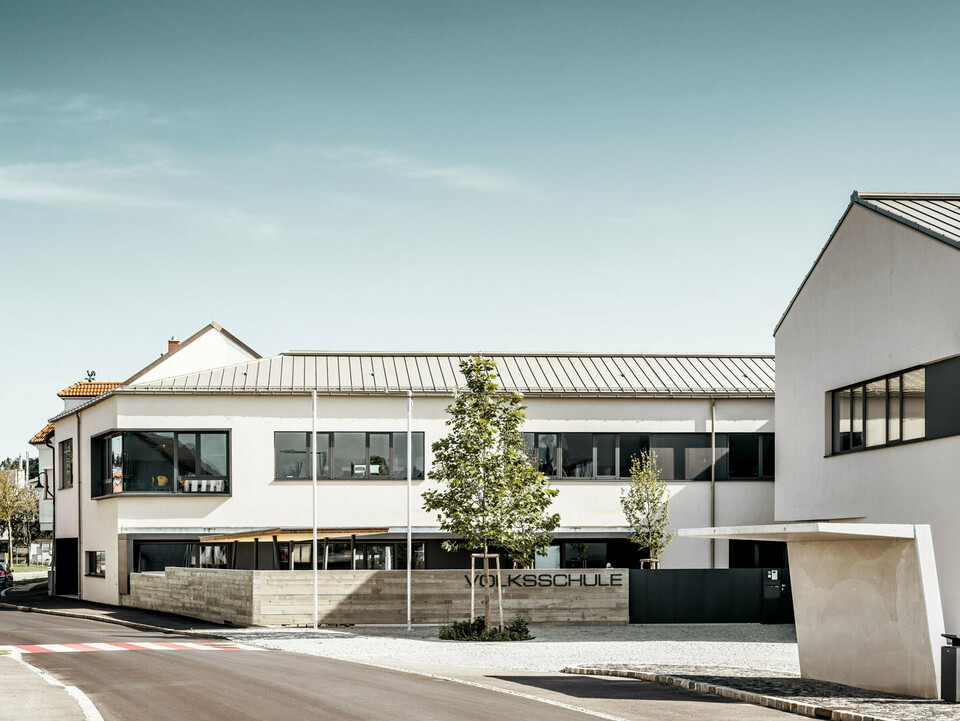 Mediation of architecture and creating educational space
The Lower Austrian architectural office has realised a total of twelve projects for children and adolescents and recently finished the elementary school in Sierndorf (Lower Austria). The latter received a Gold Award for its overall sustainability by the platform klimaaktiv – a building database run by the Austrian Society for Environment and Technology (ÖGUT) and initiated by the Federal Ministry for Climate Action, Environment, Energy, Mobility, Innovation and Technology (BMK). The medal was awarded for the school's intended planning of and subsequently realised measures, including the 2000 m2 roof tiled with Prefalz. This corresponds to 952 out of 1000 possible points on the klimaaktiv scale and evaluates the "energy efficiency as well as the quality of planning and realisation, the quality of the building materials and the construction and central aspects of comfort and indoor air quality."
Christian Mang describes working in educational architecture as follows: "It is a field of work where you have a certain amount of creative freedom, as long as the building contractor goes along with it. As soon as all parties involved realise that this is beneficial for children and their development, you are usually able to hold on to this creative freedom throughout the entire project life cycle, especially with regard to interior design."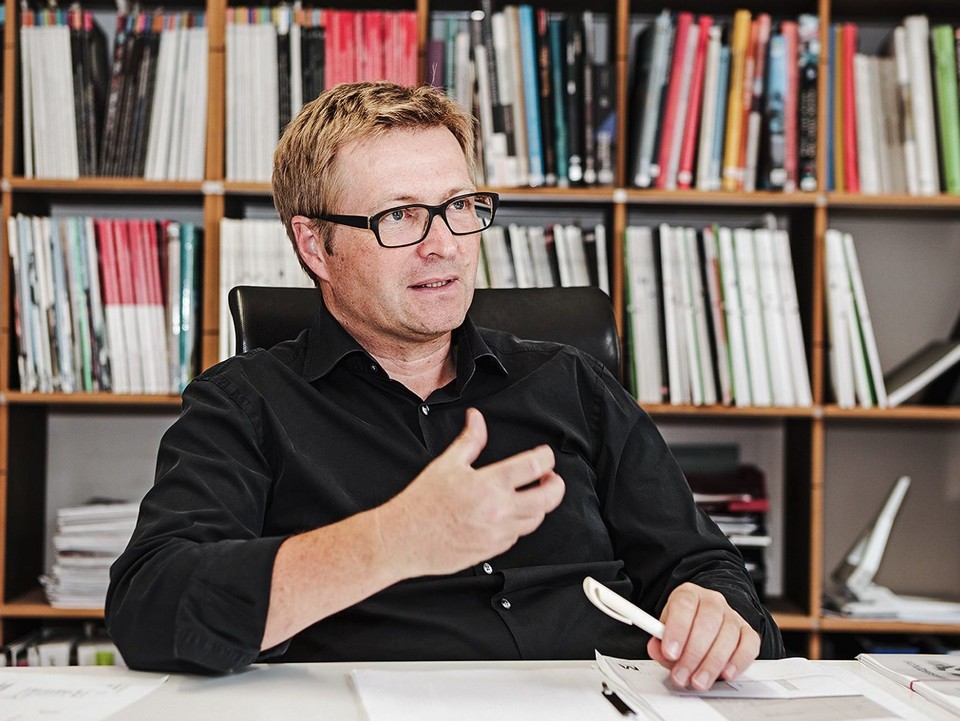 Then as now, Mr. Mang finds it necessary to convey something tangible for children and adolescents through architecture because they are the constructors and decision-makers of the future: "If the children of today who will be the adults of the future one day grow up with a certain regard for sophisticated architecture, the qualities of architecture might seem more natural to them."
In his view, his architectural work should serve the perceptions of future generations. Mr. Mang also mentioned that he wished there was a greater openness regarding atypical approaches to architecture in the present: "Every successful school or kindergarten project is both a contribution to a positive development of architecture and a future decision-maker with an affinity for architectural quality." Apart from this, Christian Mang sees a great need for action with respect to an open-mindedness towards more sustainable architecture and architecture that deviates from the norm, both in the east of Austria as well as in his immediate surroundings: "When I travel, I consciously look at buildings – in South Tyrol, in Vorarlberg and in Switzerland. And there are many excellent examples there that show how you can create an added value for users if you have a very high-quality approach with these projects. And that is being done intentionally!" The same goes for the planning and realisation of educational architecture: "Educational architecture must create an atmosphere in which children and adolescents feel happy and comfortable – this also corresponds with my credo. In other words, just like it is already being demanded elsewhere from politicians and society alike: "In South Tyrol or in western Austria, the common consensus regarding the planning and conception of architecture is generally far more progressive."
The elementary school in Sierndorf and the topic of sustainability
In order to be able to counteract unavoidably impending climatic changes, Christian Mang finds it necessary to construct with less energy or entirely energy-efficient. In his opinion, the quest for materials with respect to specific implementations, however, seems more like a question of faith for architects and planners alike: "There has to be sustainability with regard to both energy expenses and building materials. It is much more efficient to invest in more high-graded building materials and thereby receive a certain durability, while this also guarantees value retention with respect to aesthetics. For me, this is essential. There are façades that gain more appeal in the ageing process, while other surfaces and details lose their touch after a short time. At the time, we chose to use PREFA for the façade of the competence centre for winery solely from a design point of view. There was one further reason, however, and that was the longevity of the products. And we decided to do exactly the same with the elementary school in Sierndorf. Another aspect is that an aluminium roof is a very calm surface from an aesthetic point of view because, if seen from below, one can really keep the angle of the roof's inclination flat. The material, moreover, is extremely light and was immediately available in the colour we wanted to have."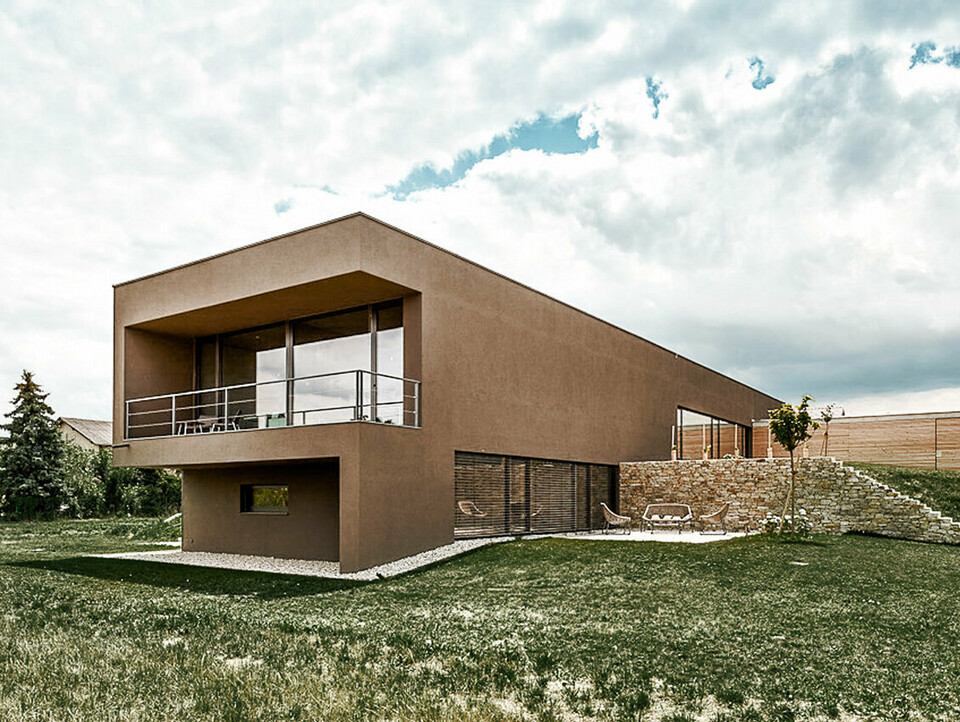 Text and Interview: Marlon T.L. Fink
Photography (Krems and Mang portrait): Croce und WIR
Photography Sierndorf: Martin Croce
Mang portrait office and office building: Kurt Hörbst