With currently more than 140 employees, Auer Weber belongs to the largest companies in the building industry. The architects' designs have shaped major projects across Germany for decades – and in the meantime also internationally. The founders Fritz Auer and Carlo Weber remain unforgotten. They implemented a successful generational change in a foresighted manner: Today, five managing directors are in charge of two office locations together with founder Auer as a consultant and seven other partners. Reinventing oneself without having to start from scratch seems to be one of the strengths of Auer Weber. For the series "Insight", PREFARENZEN interviewed Moritz Auer, one of the managing directors, to give you a glimpse of the office in Munich.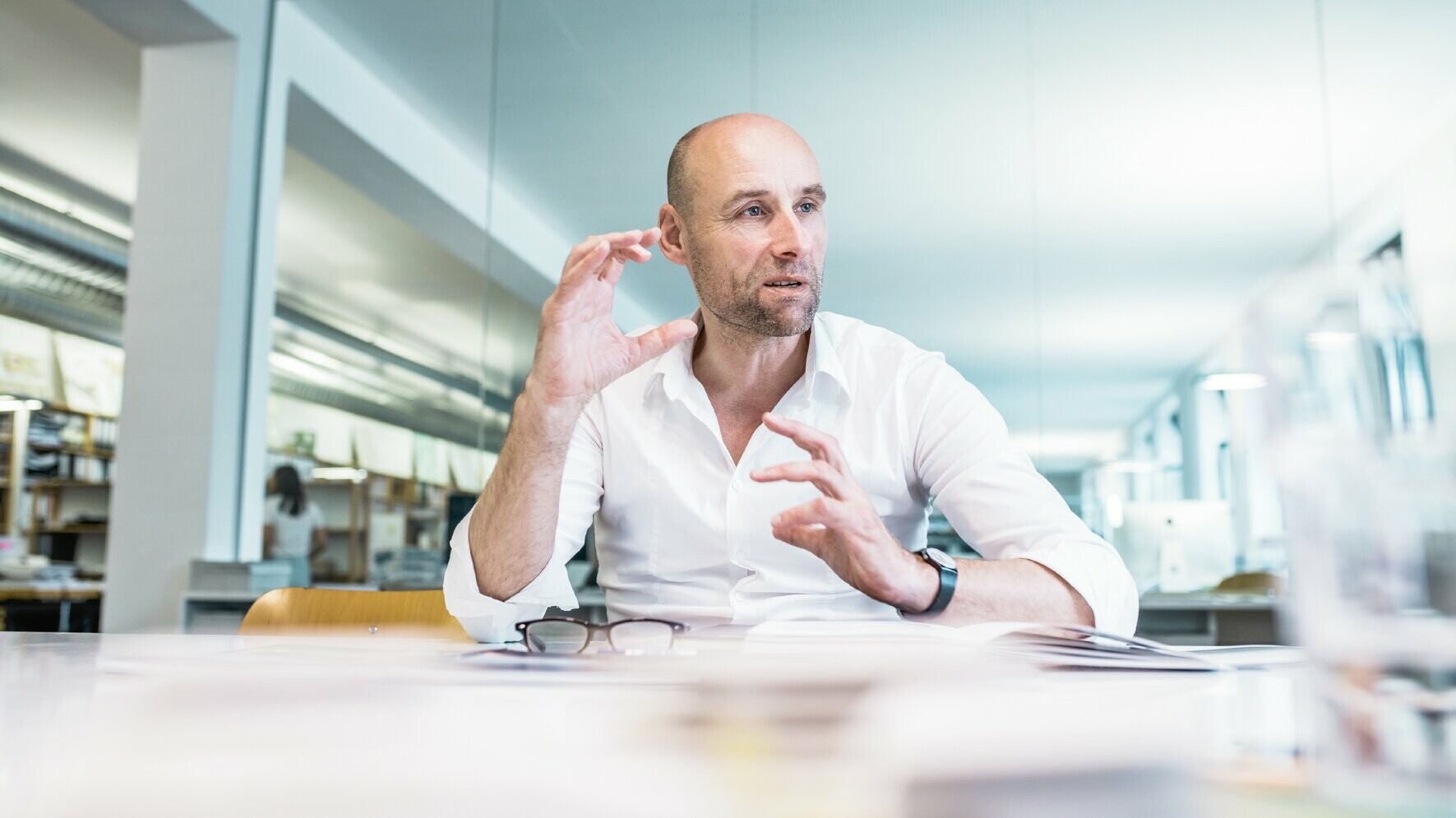 Auer Weber work from Munich and Stuttgart. Whoever has studied architecture is certainly familiar with the Southern German office from numerous reports in specialist journals. You can say that the architects are very conscious of details, but they are also open for an extremely large scale. That is also why Moritz Auer describes the office's portfolio as "very extensive". Its realisations include, among others, complex residential buildings, office buildings, universities, schools, sports facilities and the refurbished "Inselhalle" in Lindau on Lake Constance, which is characterised by its geometrically striking PREFA roof landscape consisting of 38 individual surfaces.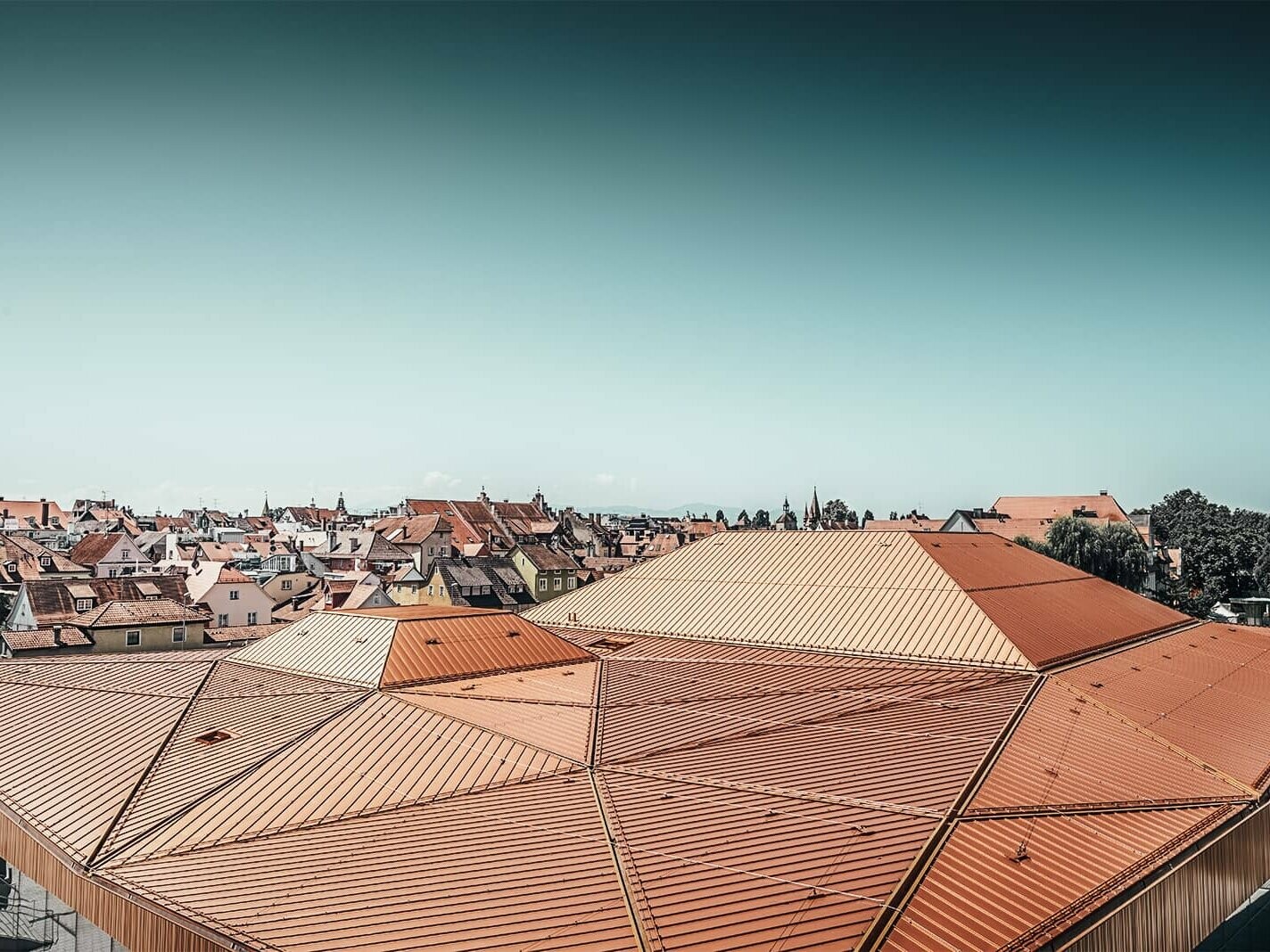 Developing a broad expertise
How does the office develop its expertise in various building tasks? This happens almost exclusively through competition designs, which – as is not unusual for architecture offices – are continuously produced in fixed teams. Auer Weber submit 40 to 50 designs each year. Working on competitions is like cooking without a recipe, according to the office diary Auer Weber call "AW365". The book contains important thoughts and projects, is published once a year and is a joint product of the network around Auer Weber. It illustrates and strengthens the architects' collectivist aspiration as well as their multilayered areas of activity.
In the competitions sector, Auer Weber are internationally successful "without a recipe". They were able to realise quite a bit due to wins e.g. in China, Germany and France. The office, which formerly focused on Southern Germany, has been working on international projects and with an international community of employees. For instance, in order to be able to realise objects in France, experts with corresponding construction and design experience were taken on board. The office has persisted with its character and also economically due to this openness. Is it a question of not having a recipe when it comes to why Auer Weber are continuously expanding? Or rather a question of the office culture and the structures? The fact that the employees' individual capabilities can be considered and promoted much more in the large office – so potentials can be used in an optimised way – is of a structural nature.
A big team operates at the top, and all the other departments also work in a team-oriented manner. Auer Weber is organized in many compact work units that solve and implement their tasks independently. Of course, the bosses make the final conceptual and economic decision. But Moritz Auer tells us in a relaxed tone that what Auer Weber wants to do and achieve "cannot work without trust and a scope for decision-making". He reflects on his own role and knows that, as managing director of an office with 140 employees, he is not involved in all the decisions. This also includes not knowing every project in detail. "It is usually the case that an average of 30 projects run at the same time at one office location. In the management team, we decide who is responsible for which project and work in project clusters," as Auer states. They are "a large, constant, but movable organism and not a classical mastermind office." The chances this operating principle engenders for every single employee are independence, changing roles throughout a career and an exchange of experience between generations and departments.
Becoming more female – definitely, yes please!
An organism like Auer Weber is continuously on the lookout for new employees, which "isn't easy" in Munich at the moment, according to Auer. And when asked about the gender gap in the leadership positions in the office, his reply is somewhat surprising. Women are definitely promoted to top positions in the office. But unfortunately, it can generally be observed that fewer and fewer young architects want to take on the great responsibility – regardless of gender.
Spaces between desks and dynamics
The office in Munich extends across three storeys of a former factory building. Two of them are used as a classical office. The third one is an open and collective space, where big meetings take place and table tennis is played. One of the employees' favourite places is a gallery bridge above the courtyard, from where you can observe the terrace of an Italian restaurant and the many other offices in the neighbourhood. In the dynamic everyday operations of Auer Weber, it is where you can make a well-deserved pit stop and take a quick, deep breath.
You've got to have material
Taking a deep breath also means for Auer Weber and its employees that they can weigh the pros and cons of decisions relating to what is necessary regarding the choice of materials on a daily basis, for instance. "Materials are an absolutely pivotal subject in the design. And we already address relating questions in the competitions," Moritz Auer explains. "Is it mineral? Is it massive, lightweight or something textile?" According to him, it is impossible to "think architecture" without construction, surface qualities and impression. He is personally interested in serially produced materials and assumes that there is a larger development potential in the industry than in pure craftsmanship.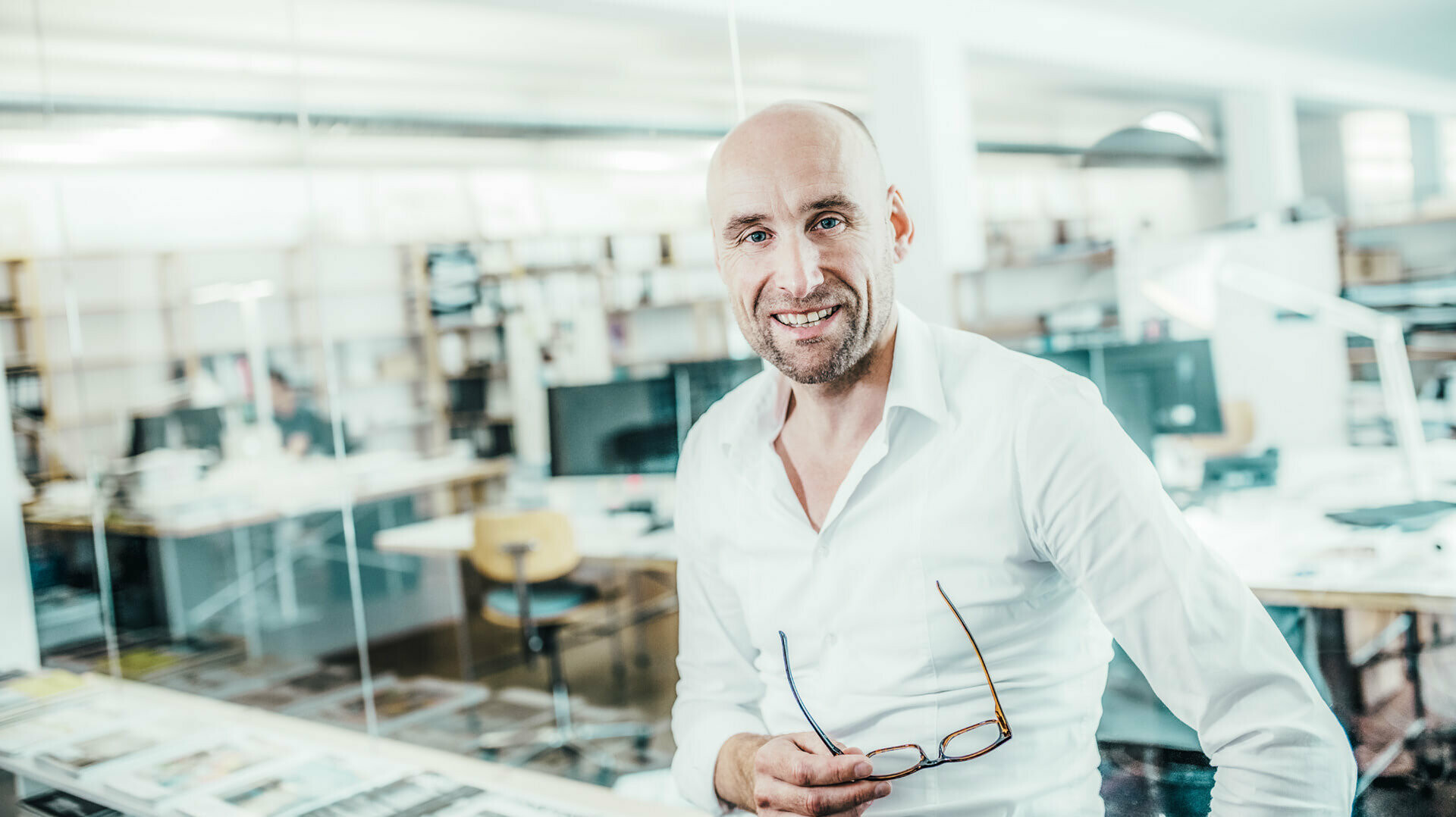 Decisions are indispensable in the everyday life of an architect. Therefore, with a twinkle in our eyes, we explicitly asked Mr. Auer to choose between terms related to building: Either – or?
Text: Claudia Gerhäusser
Photos & Videos: Croce & Wir