A clever concept with a role model effect
"Benessere" – promoting well-being in a sustainable way. The Laboratorio di Architettura in Reggio Emilia (IT) led by architect Andrea Rinaldi has been dedicated to this kind of housing design for many years. Based on the example of social housing in Bolzano, the team developed façade blocks for thermal reconstruction. A clever concept with a role model effect.
Whoever talks with Andrea Rinaldi about urban development soon discovers that, for him, it is not about building something new but about reconstructing, upgrading, maintaining and caring for existing structures: "A doctor looks after a person's well-being, an architect looks after the space a person lives in," he says. In other words, urban renewal instead of urban construction. The architect and urbanist thinks his projects on several levels and also takes sociological, economical and historical aspects into account, among other things. According to his ideas, the renewal of living space should achieve one thing in particular: that the inhabitants' well-being is increased.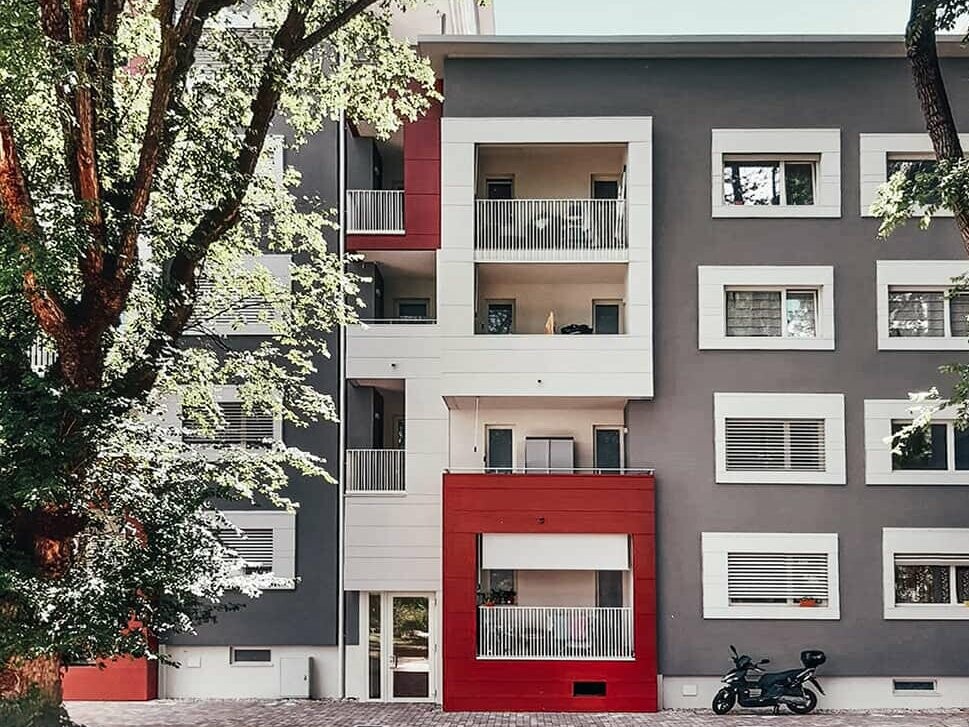 Many sounds, one symphony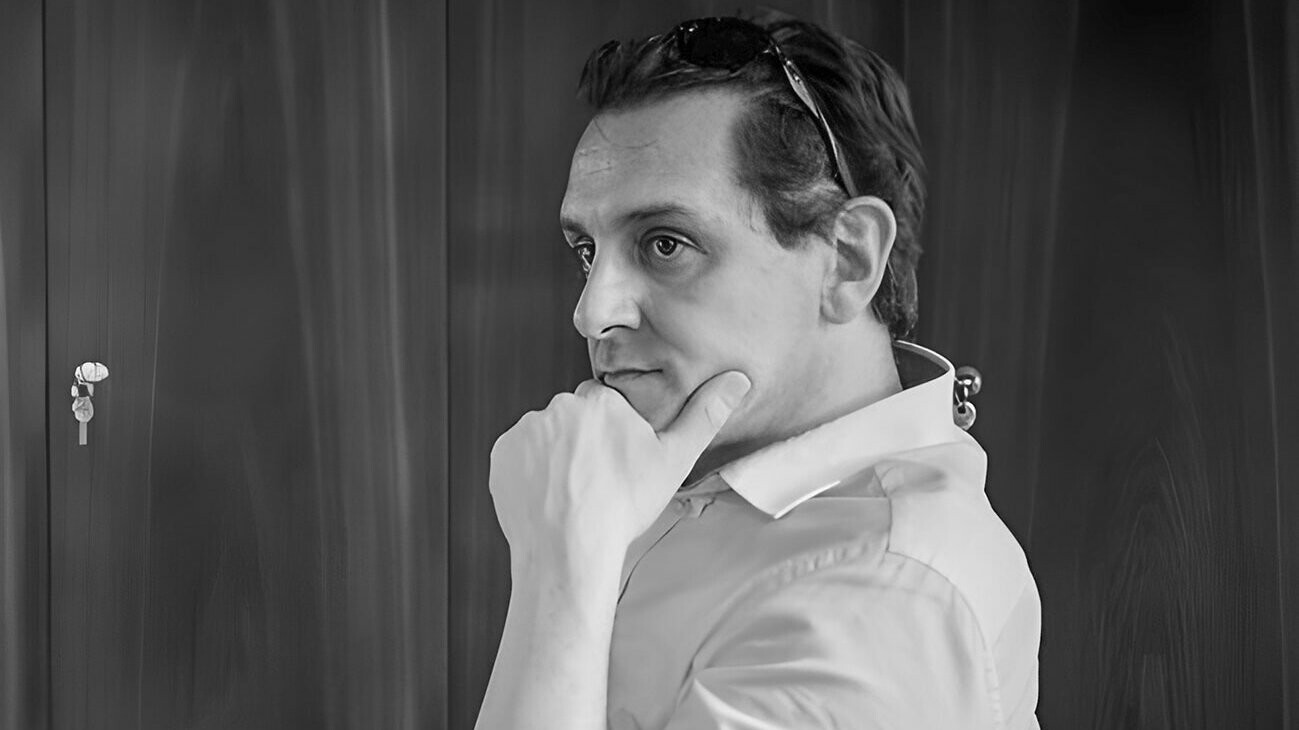 The five-year EU project Sinfonia was about making two cities – Bolzano and Innsbruck – smart and therefore more livable. The pilot cities function as a model that should help other European cities save energy costs, regulate traffic better, improve the quality of air and life and generally facilitate an energy transition. As the first phase of testing is completed, further EU funds are flowing and five early adopter cities as well as 47 replication cities are in a copycat process on their way to a more energy-efficient future.
Recyclable aluminium plays an extremely important role in sustainable reconstruction.
Andrea Rinaldi and his wife run a studio (Engl. "atelier"), as architectural offices are called in Italy. Together with five other architects, they focus on sustainable building methods and circular economy. The latter, according to them, is also important for other social aspects. In circular ecological building, demolition measures are largely dispensed with. Individual components are repaired or replaced in a targeted manner once they have become worn down. The building materials used for this purpose consist of renewable raw materials or are recyclable.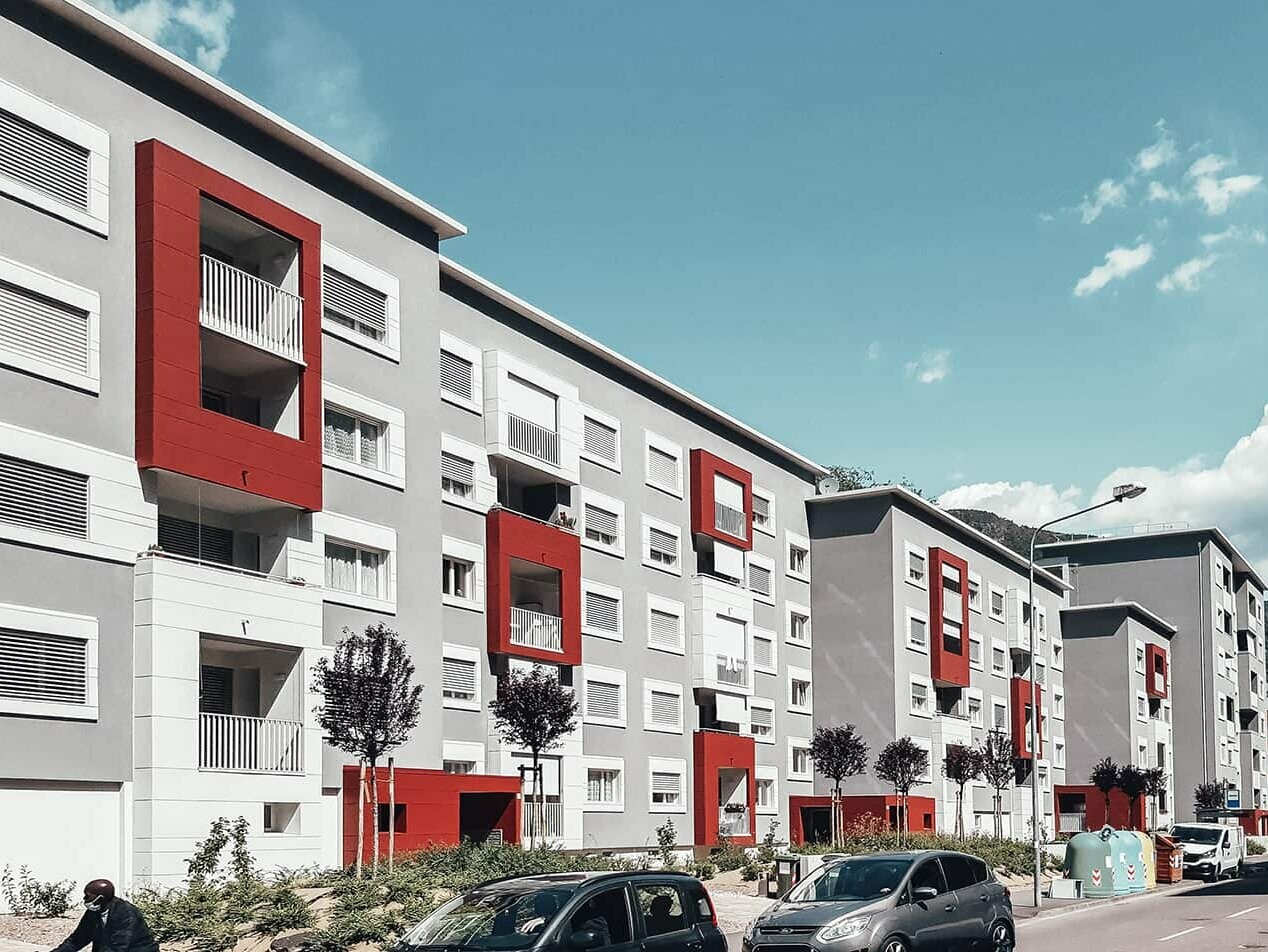 Fresh, colourful and effective
Likewise, the material Prefalz, which was used on the exterior of the façade blocks to insulate the windows and balconies on Via Palermo in Bolzano in the course of the EU project Sinfonia, is also 100% reusable. Thanks to the new modules in red and white, the architects managed to aesthetically spice up the building and seal building openings at critical points so up to 70% of heating costs can be saved in the future. A win-win situation both for the quality of life in the interior spaces and the façade's new appearance.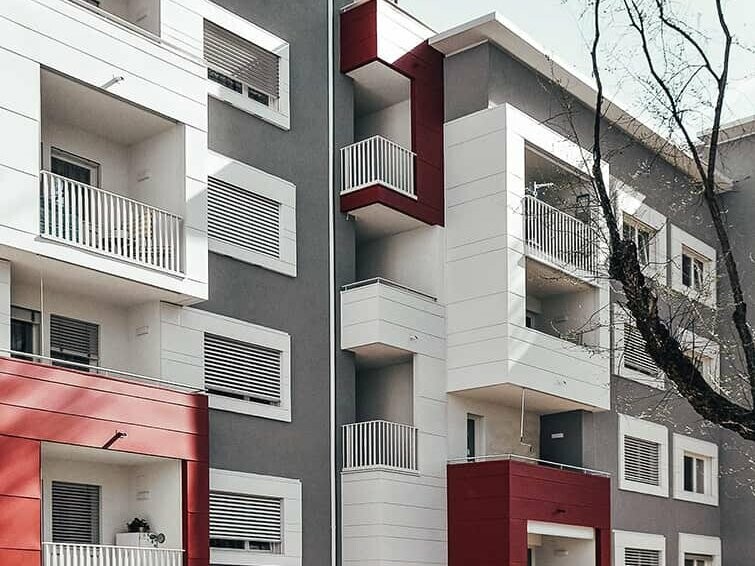 What Andrea Rinaldi also liked about the project is that the inhabitants were not forced to leave their flats during the reconstruction. Within a single day, the blocks were placed on the windows and balconies, the rest was completed from the inside in one go. An ingenious construction: The modules exclusively consist of wood and aluminium. The railings on the balconies are made of high-quality stainless steel. The logic of the time-saving process is based on the industrial production of prefabricated elements off-site. Each façade block is assembled in the factory according to the figure below. "The method has the special advantage that it allows very precise processing," says Rinaldi. An important factor in thermal reconstruction.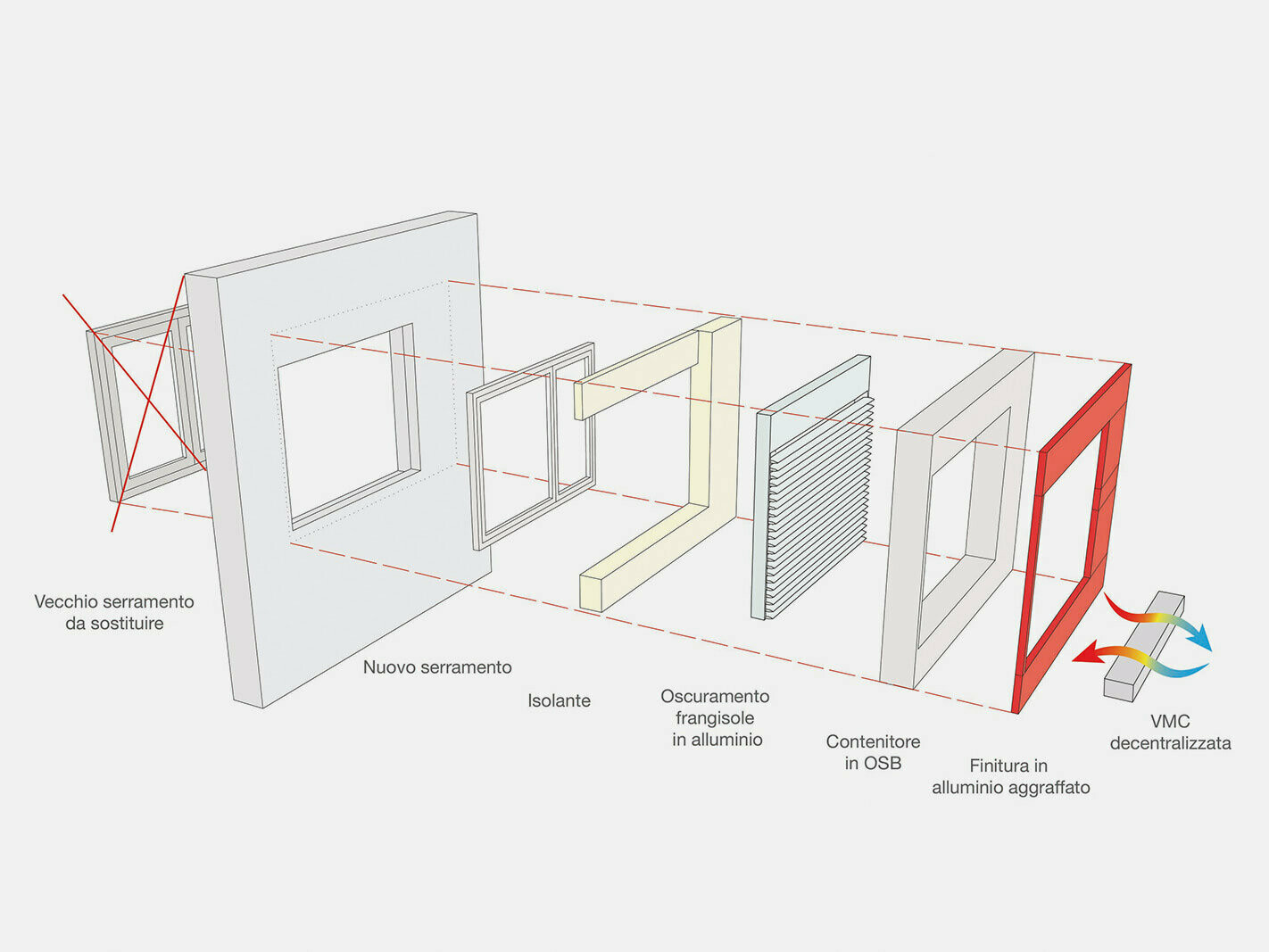 Rinaldi also passes on the innovative insights he gains through his work at the University of Ferrara, where he teaches "Architectural and Urban Composition". He says that he finds it important to already sensitise students for the concept of urban renewal and inspire them to become interested in this area. As an editor of a regional magazine for applied architecture and building culture, he is also a pioneering part of a growing architecture scene that aims to treat existing resources and building materials with care. But despite his own initiative, Rinaldi knows: "In Italy, people are building as they always have. Not much has changed. The building industry is always a step behind compared with other areas of society when it comes to sustainability."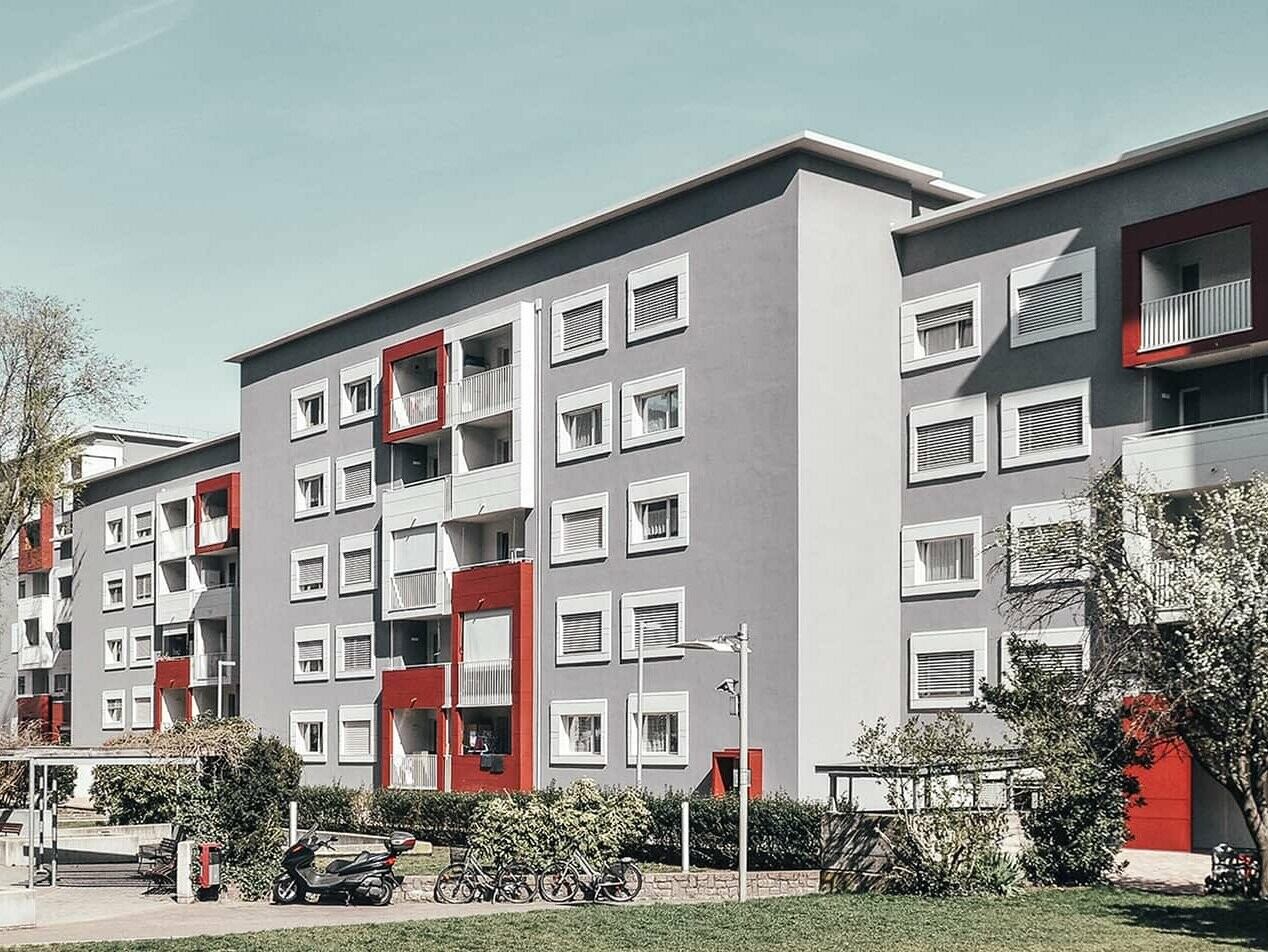 The architect, who has won several awards since 2016, thinks in an integrative manner and builds on his in-depth expertise. In our conversation about his work, the concepts of space, society and technology come into closer contact with each other. The insights he gains flow from one project to the next: Whoever wants to create visible, scalable changes needs strong and adaptable ideas. With three different types of modules in PREFA white and oxide red, Rinaldi worked together with motivated craftsmen to create a powerful and lively depth effect on the façade front that he describes as "controlled diversity". A variety which promises quality of life and gives the residential building an impressive image that is clear for everyone to see!
Residential building in Bolzano - details
| | |
| --- | --- |
| Country: | Italy |
| Object, location: | residential building, Bolzano |
| Category: | reconstruction |
| Architecture: | Laboratorio di Architettura |
| Installer: | Cavagnis Costruzioni |
| Material: | |
| Colour: | PREFA white, oxide red |
Text: Mara Probst
Photos: © Laboratorio di Architettura - Reggio Emilia