PREFA presents two new products
PREFA presents two innovative new products: the large format DS.19 shingle 480 × 262 mm, which is setting new standards, and the drainage system with P.10 coating which has a matt appearance and is UV-resistant, colour-fast and waterproof. Since its introduction on the market, this revolutionary new coating is one of the most popular surfaces of PREFA's roof and façade systems, enabling perfect harmony between roof, façade and drainage elements in a complete system.
The new format of the DS.19 shingle not only ensures a quick and more efficient installation but will also give your roof a modern appearance. The shingle, which is 0.7 mm thick, is made from coil-coated aluminium. Eight DS.19 shingles are required per square meter. The format and condition are suitable for installation on flat roofs with a roof pitch from 17°. It is these aspects that differentiate the large format shingle from the smaller shingles: ten of the previous shingles were required per square meter and could only be installed on roof pitches from 25°. Weighing only 2.75 kg per square meter, the DS.19 shingle is also highly convincing in terms of its weight. The DS.19 is available in nine popular colours: brown, anthracite, black, brick red, oxide red, moss green, light grey, nut brown and stone grey. The DS.19 is storm-proof and weather-resistant and, like all PREFA shingles, it comes with a 40-year guarantee on materials and colour.
Many features and easy to install
With its comprehensive accessories such as starter strips, flashings and snow guards, the DS.19 shingle comes as a complete system, boasts many refined features and fits neatly on solid sheathing. Well-designed ridges, embossments and drainage areas in the hook seams characterize the sophisticated technology. Half-length fitting shingles are available to facilitate precise work. The DS.19 is extremely easy to install and offers roofers an added advantage in that it can be walked upon. The markings on this shingle also guide craftsmen during installation.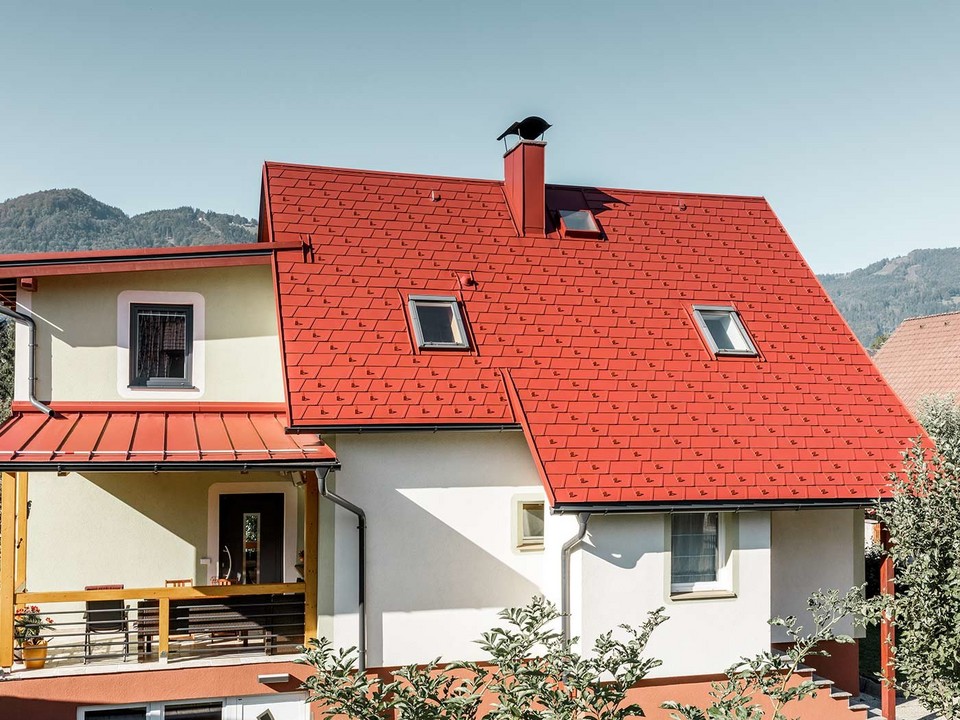 The drainage system with its P.10 coating (available from March) means that optimum coordination of smaller elements such as gutters is now becoming a reality. The special feature of the P.10 coating is the combination of a matt finish with resistance to chalking caused by UV rays. For the time being, the drainage system with P.10 coating will be available in the popular colours of anthracite, light grey and brown.
Like the roof and façade elements, the drainage system also has a high-quality coil-coating system which is applied in up to 20 processing steps. The coating layer, which does not contain any heavy metals, is malleable and durably protected against temperature fluctuations. Regular checks and the latest technology guarantee excellent and durable coating and product quality on all colours. The colour does not flake, peel or rust even in concealed areas. PREFA aluminium products do not need to be painted, touched up or repaired in any other way.