Small-format façade shingles are considered a popular classic in façade design. Thanks to their flexibility, small angled surfaces as well as rounded facades can be realised – always in perfect technical quality, of course. The small-format PREFA aluminium wall shingles also result visually in a beautiful image that meets the highest demands due to the concealed fastening.
It combines the proven shingle shape with the high-quality and durable building material aluminium.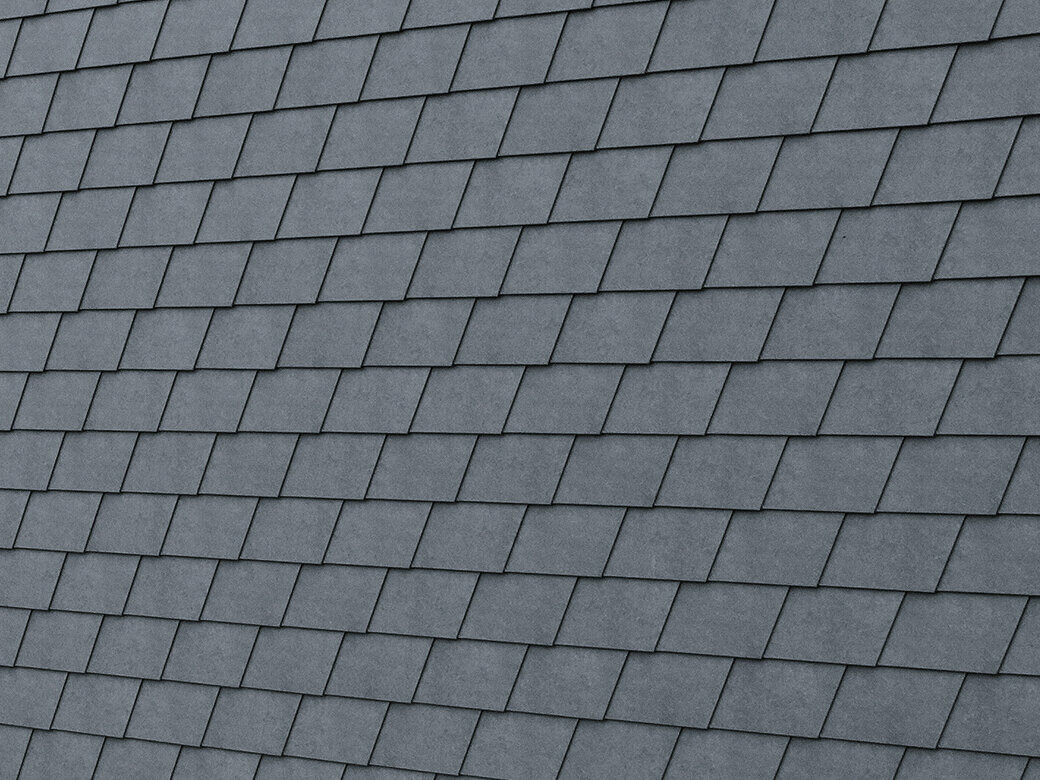 The small-format, particularly lightweight façade shingle shows its strengths whether used on the smallest surfaces or in large-scale projects. In addition, the product is suitable for both new roofs and renovation work.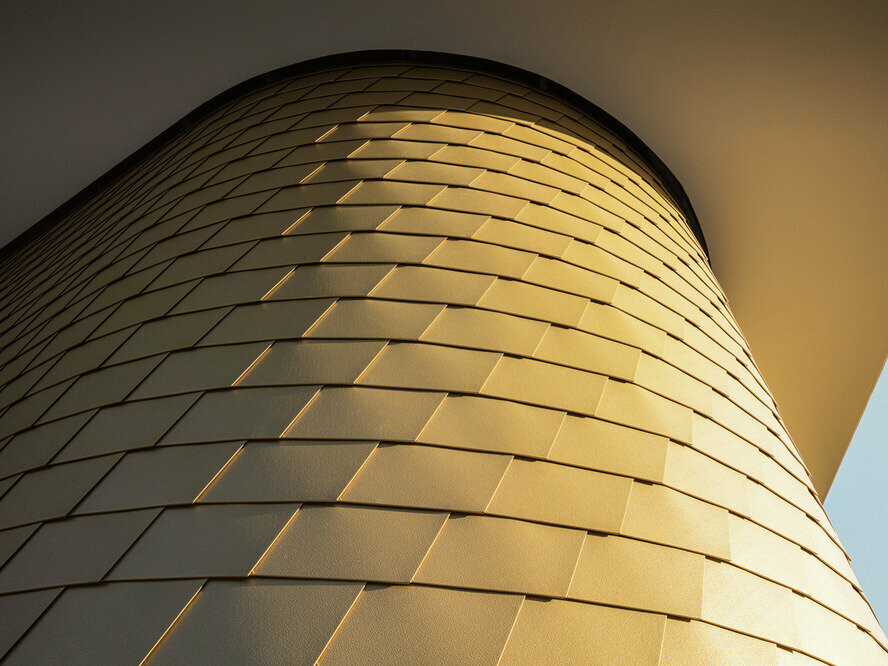 Advantages of PREFA façade shingles

Weather-resistant and corrosion-free façade system


Weather-resistant and corrosion-free façade system

Colour range of the PREFA façade shingle
The PREFA façade shingle is available with a stucco finish in many standard colours. A smooth finish is also possible on request. All designs are available with or without "PREFA" embossing. The small-format elements put traditional, scale-like façade designs in a whole new light. The low-maintenance products give the façade an elegant matt structure that you will enjoy for a long time.
| | | |
| --- | --- | --- |
| Colour | Code | ~ RAL |
| | P.10 brown | 7013 |
| | P.10 anthracite | 7016 |
| | P.10 black | 9005 |
| | P.10 brick red | 8004 |
| | P.10 oxide red | 3009 |
| | P.10 moss green | 6005 |
| | P.10 light grey | 7005 |
| | P.10 prefa white | 9002 |
| | P.10 nut brown | 8019 |
| | P.10 stone grey | 7031 |
| | P.10 dark grey | 7043 |
Notes
The RAL values stated are merely approximate values (~), some of which may differ vastly from the original PREFA colour and, under certain circumstances, may not reflect the subjective perception of the colour.
Above all for colour quality P.10, it is almost impossible to define values due to the surface structure.
Plain aluminium: The guarantee does not cover surface appearance alterations caused by processing and environmental influences. Follow the instructions.
Metallic colours may vary in shade.
To identify exact colours for complementary components please consult original samples.
Be inspired by wall shingle façades that have already been implemented.
Use façade shingles as a visual highlight by highlighting parts of the façade, or use the aluminium wall shingles as a complete façade cladding for your building. Design your new exterior wall according to your individual requirements and choose from numerous façade colours.
We have compiled extensive tips and ideas for façade design for you here. In our Reference Gallery and Renovation Gallery, you will find further application examples with the façade shingle.
Other variant: XL façade shingle
With the PREFA XL façade shingles, the time-honoured shingle shape meets the high-tech material aluminium. This makes the PREFA XL façade shingle the perfect material for older buildings.
The installation variant (3/4 division) and the diverse range of colours ensure atttractive and harmonious façade surfaces. Seams on all four sides guarantee the necessary reliability, and ensure a sealed, weatherproof fit.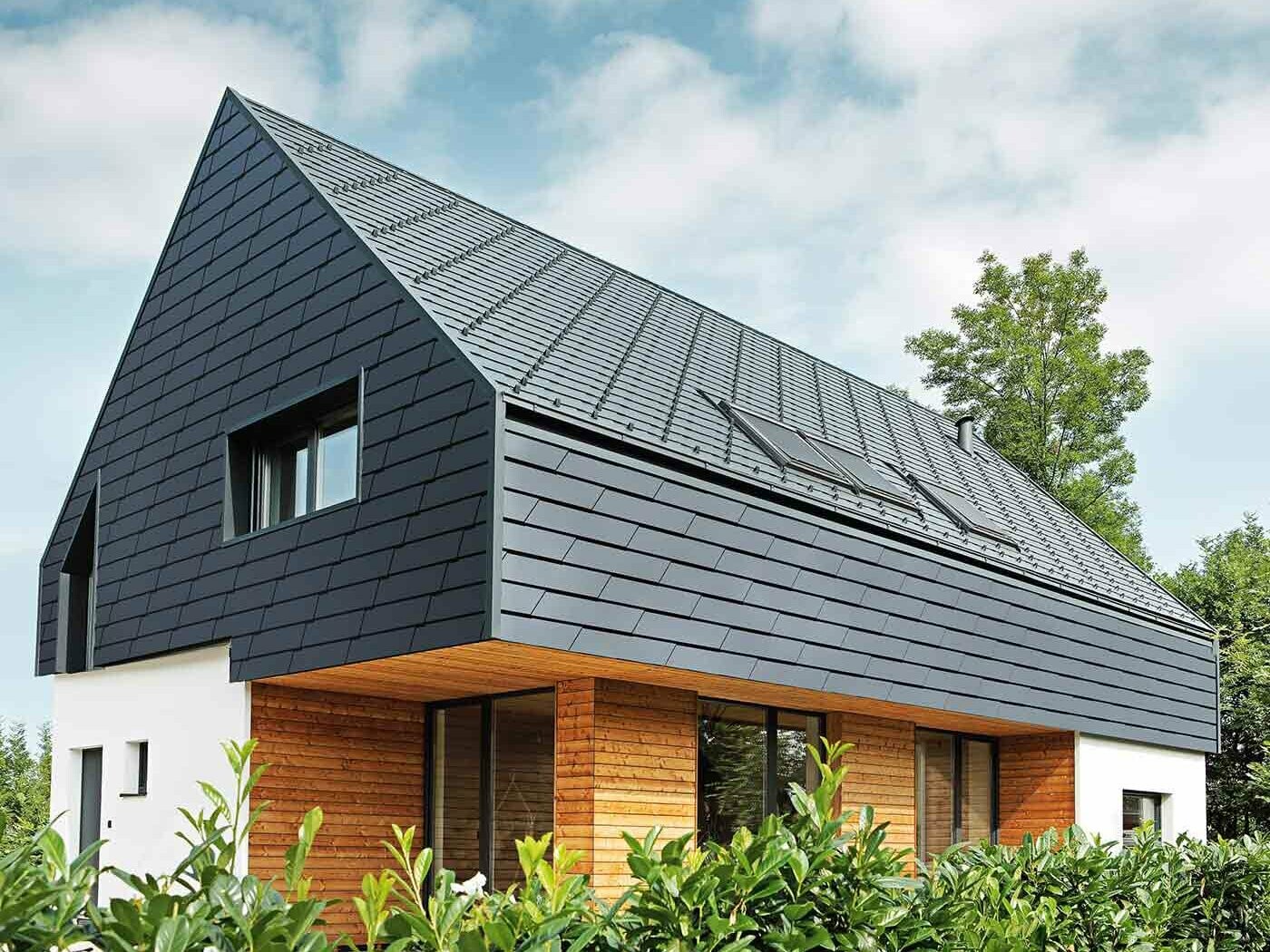 Do you have any questions about façade shingles?
PREFA façades are installed as non-bearing, rear-ventilated façades. This means that there is a gap for rear ventilation between the aluminium façade cladding and the insulation. In summer, the hot air cannot accumulate behind the façade because it rises through the rear ventilation and is transported away. In the winter, this structure provides thermal protection, as the heat transfer resistance is increased in the rear-ventilated space. This temperature buffering in the rear-ventilated space ensures a comfortable indoor climate all year round.
The PREFA façade is the outermost protective layer of your house and simultaneously serves as a visual design element to improve the look of your home. Not only is it nice to look at, it also protects your home from the weather. In addition, durable PREFA aluminium cladding protects the underlying layers (supporting structure, insulation and substructure) from the effects of the weather. Owing to the fact that your PREFA façade is particularly weather-resistant, you can enjoy its beautiful appearance for decades.
It should be noted that PREFA façade products must not be confused with sandwich panels or other products with integrated insulation, as they are exclusively specialised for the functions mentioned above (protection and visual design). If you would also like to have a high-quality aluminium PREFA façade, the skilled workshop will be able to provide you with a suitable substructure and, if desired, suitable insulation in addition to improving the appearance of your home with PREFA façade cladding.
If the PREFA façade is installed properly, a perforated plate or ventilation grid will be installed at the ventilation inlet and outlet which protects against animals. As long as it is installed properly, small animals such as birds or mice will therefore be unable to damage your façade.
Technical information on PREFA façade shingle
| | |
| --- | --- |
| Material | coil-coated aluminium, 0.7 mm thick |
| Dimensions | 420×240 mm (cover), i.e. 10 pc./m² |
| Weight | approx. 2.5 kg/m² |
| Supporting substrate* | on fully boarded substrate (at least 24 mm) |
| Standard fastening | indirect fastening, 1 PREFA patent clip and ring nail per façade shingle (i.e. 10 PREFA patent clips and ring nails per m²) |
Our installers and architects can download specification documents on the PREFA façade shingles here. Installation instructions and planning guide for the façade can be found in our Service Area (solely for our PREFA partner companies – please have your access data ready).

Special note for our architecture and design studios: 3D and BIM data, as well as textures for our products can also be found here: digital planning
It doesn't take much to mount a PREFA façade shingle: with the starter strip and the patent clip, the installation partner will have almost completed it. All connection flashings are usually folded by the installer from the complementary coils that are available in the same colour as the façade shingles.
For a complete, detailed list of accessory products, see our price list (only for processors).