Thilla Theus impressed the curious audience of the Schweizer Baumuster-Centrale with insights into her architectural work. PREFA Switzerland had invited to the Brown Bag Lunch Series "Diagonal Scaling" on 2 September within the framework of the series of events KONKRET, where the architect and her high-rise project in Horw (CH) were at the centre of attention. The lecture on the 46-metre-high building by Lake Lucerne with an anodised aluminium rhomboid façade is worthwhile for everyone interested in architecture. Elmar Schilter, Managing Director of PREFA Switzerland, also added comprehensive technical details of the unusual façade construction.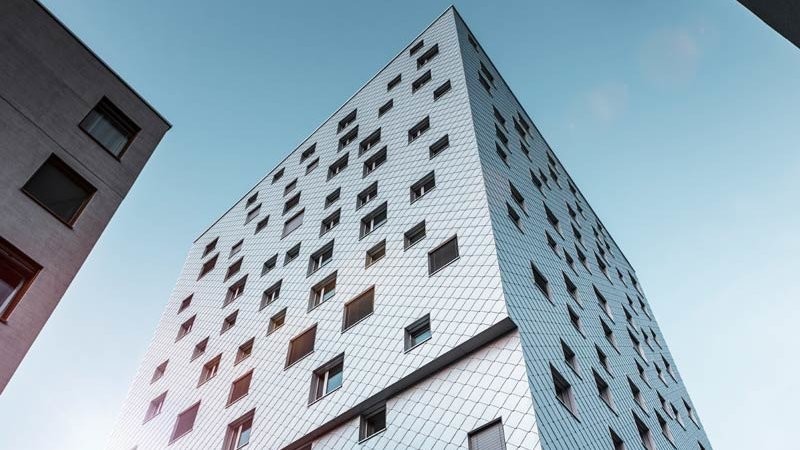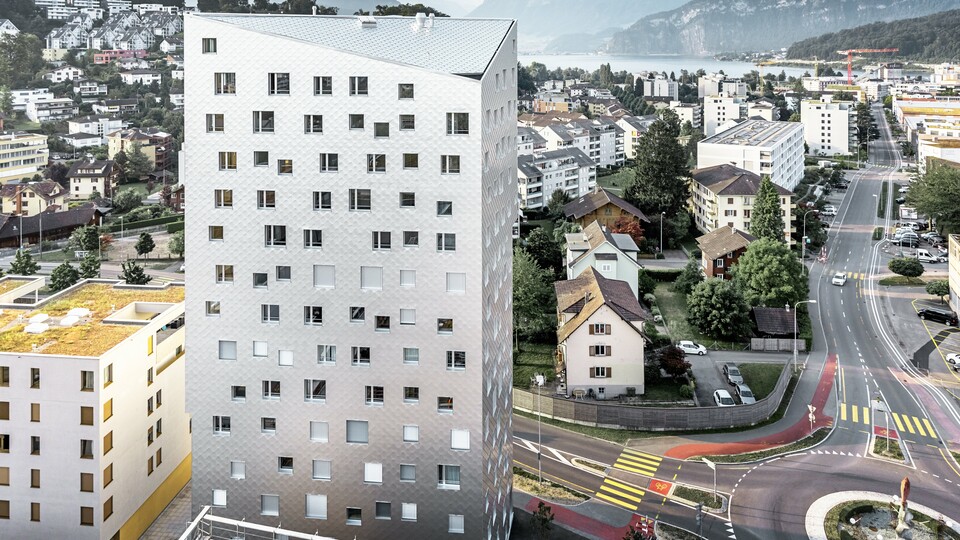 trifles was not an option
In the subsequent conversation with PREFARENZEN, Thilla Theus emphasised how important a well-practiced team is for architectural practice and how much she values materials and their haptic quality. Therefore, the atmosphere of the Schweizer Baumuster-Centrale proved to be perfect to talk about architecture.
Whoever builds with Thilla Theus has a strong and competent counterpart. "I want to understand the entire production process. How else would I be able to develop something further?" Her first project had a building budget of more than seven million Swiss francs. Trifles were out of the question for the architect from the very beginning, which does not mean she does not focus on details. She always makes sure that everything fits together. With specially developed manufacturing processes, Mrs. Theus also purposely offers her clients design solutions that go beyond given standards. "I want to move forward," Theus elaborates, which she means both in technical and architectural terms, "and never give up. And young architects also shouldn't, by the way." In her lecture on "Diagonal Scaling", she already demonstrated that not even high building costs necessarily have to be a reason for compromises, emphasising how important it is that your creativity does not get lost as a result.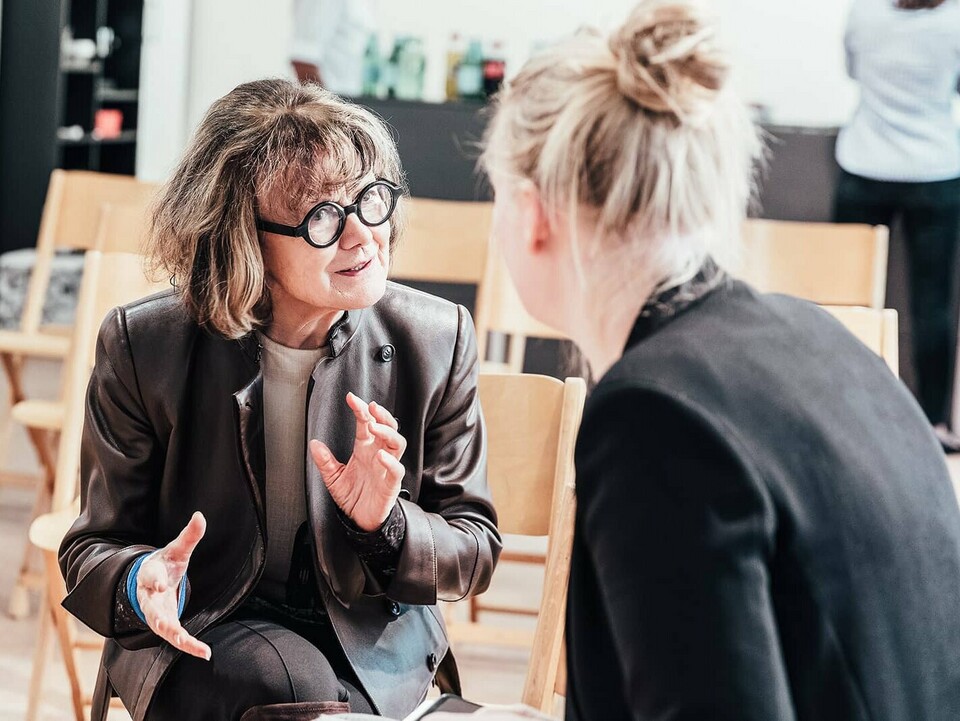 fast-paced woman with grit
The architect frequently finds inspiration in other areas. "I am just as curious about fashion as I am about buildings. Many people understand it better than architecture. Therefore, I like to use terms from fashion to explain architecture." Thilla Theus speaks of fabric layers and fabric patterns as a haptic experience. According to her, fashion and architecture are similar experimental fields, whereby the difference between both professions lies in the timelessness and permanence of architecture.
Thilla Theus is a fast-paced woman with grit. She naturally used her visit at the Baumuster-Centrale to tour the shelves filled with material samples. She curiously runs her fingers over the floor and sandstone variants, is looking for something specific. In order to maintain direct contact with manufacturers and installers, with building materials and products, she has exclusively built regionally. "I want to spare my team and myself the complications international building entails." Intensive, joint work like with PREFA Switzerland is a success because you can still meet at a personal level.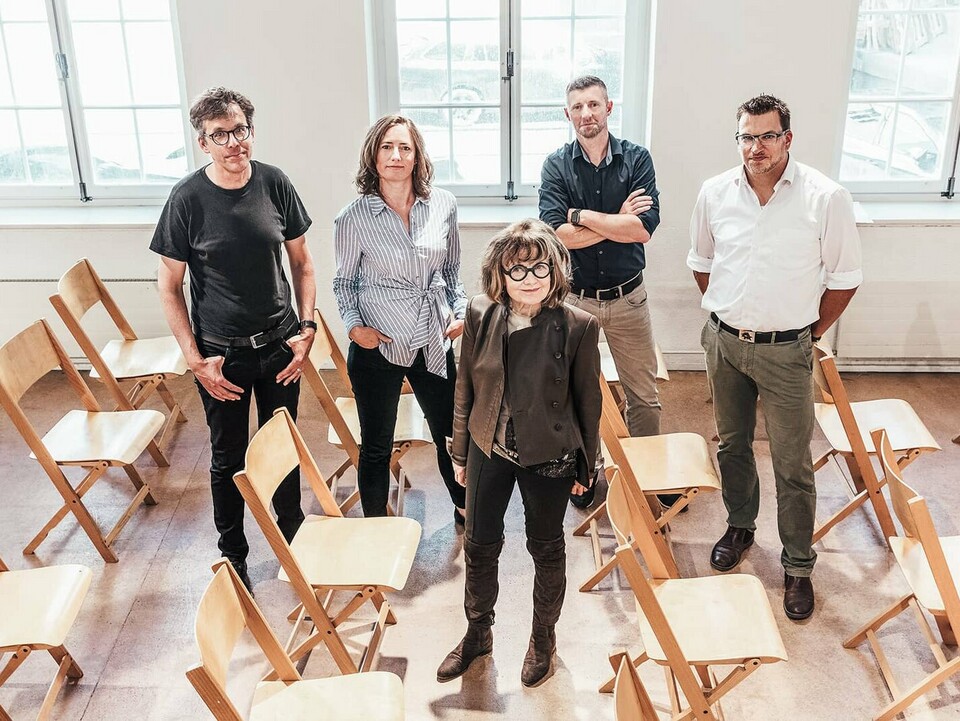 partnership between architect and industry
In Horw, it was all about 2,800 m² of façade surface from more than 18,300 anodised aluminium rhomboids, which could not be mounted on full formwork for fire safety reasons, among other things. The detailed solutions for these challenges could only be developed in close cooperation. Thilla Theus emphasises the partnership between architect and industry. She says she does not shy away from talking with the people in production and at the machines, as it is the best way to find out more and deal with the continuously growing complexity of the building industry.
Stefan Baumberger, Managing Director of the Schweizer Baumuster-Centrale in Zurich, also values this partnership. "Our knowledge about the production processes, building materials and the firms is the actual capital of the SBCZ", he explains. The Baumuster-Centrale was founded in 1935 as a cooperative of manufacturing industries with the aim to show building materials and initiate a discourse about them. "Through exhibitions of large material samples and events, we build a bridge between the producing industry and designing architects." The fact that they are a platform for many companies, but do not understand themselves as an advertising medium, particularly appeals to architects. "From both an aesthetic and a design perspective, we want to provide a framework for a professional exchange without judging," Baumberger elucidates. With this approach, they made it into the renowned research network of the Material Archiv. In a small team, they organise the comprehensive material sample collection, from which samples can also be borrowed. Uniform formats enable visitors to understand and grasp the materials – both literally and figuratively – and compare them with one another. This way, just like on 2 September, everyone can benefit from a regular exchange about building materials: manufacturers like PREFA, architects like Tilla Theus and the truly inspired specialist audience.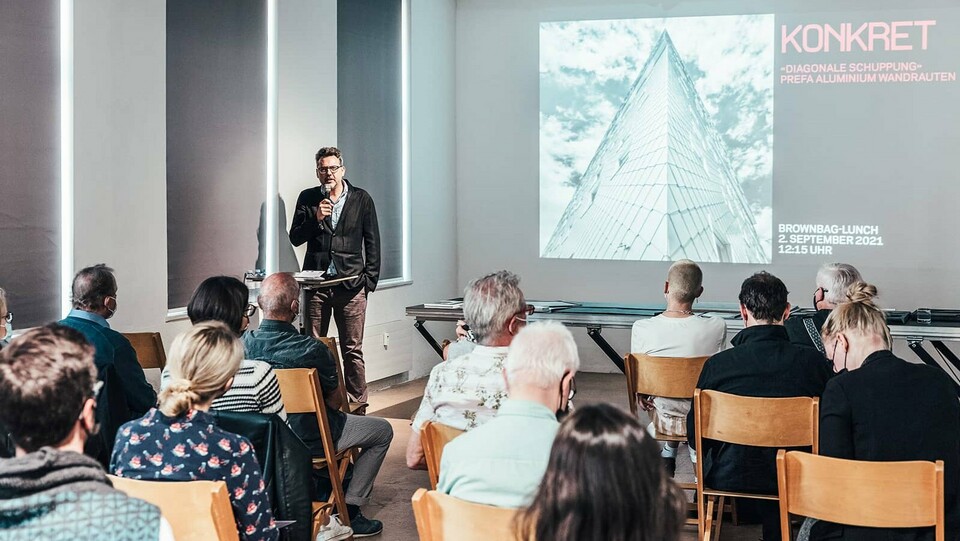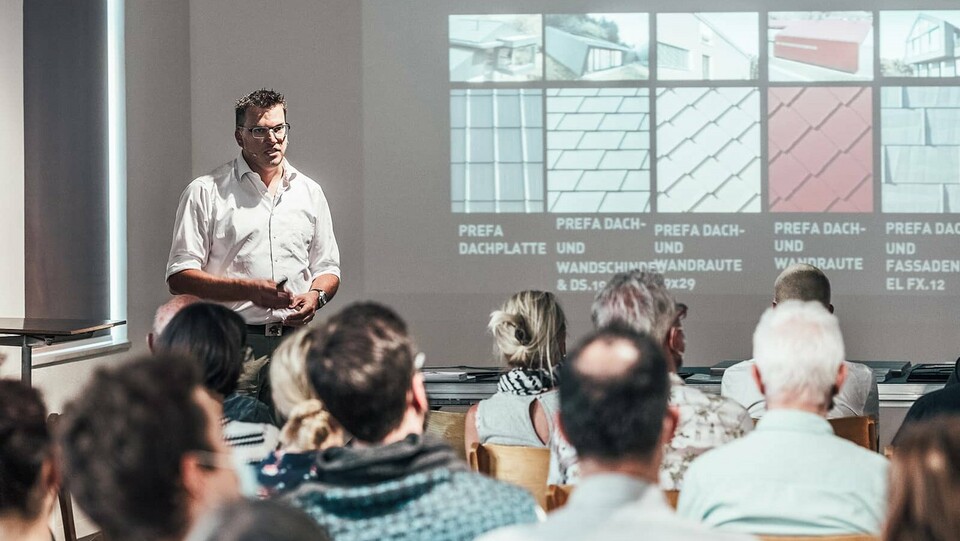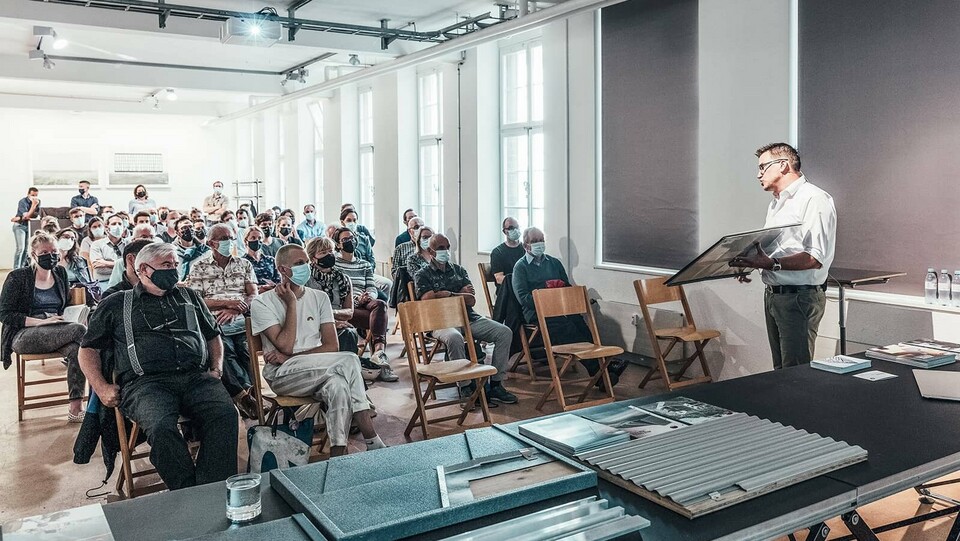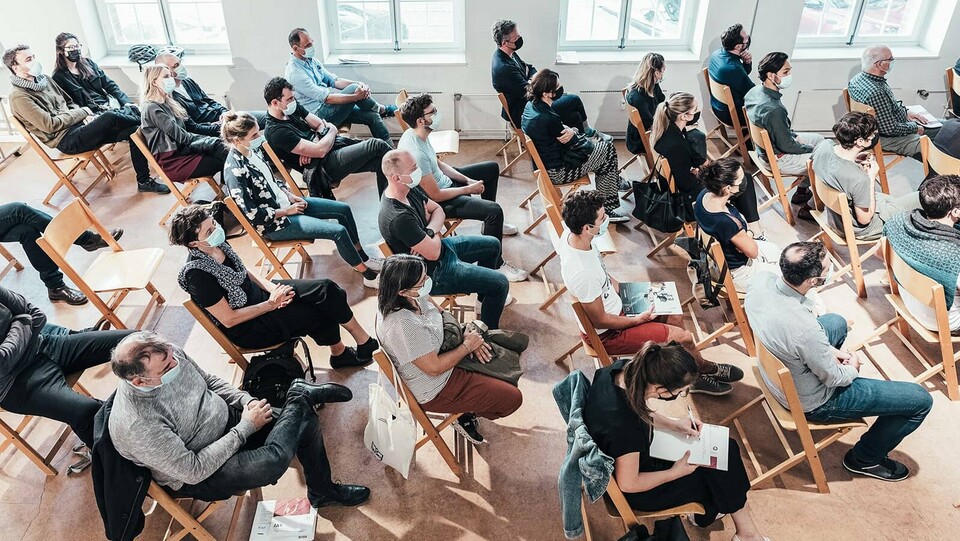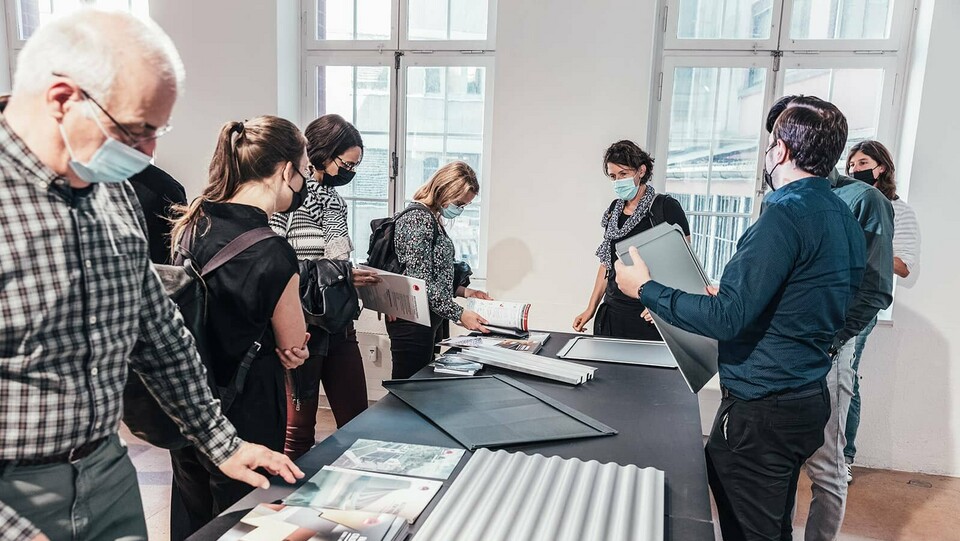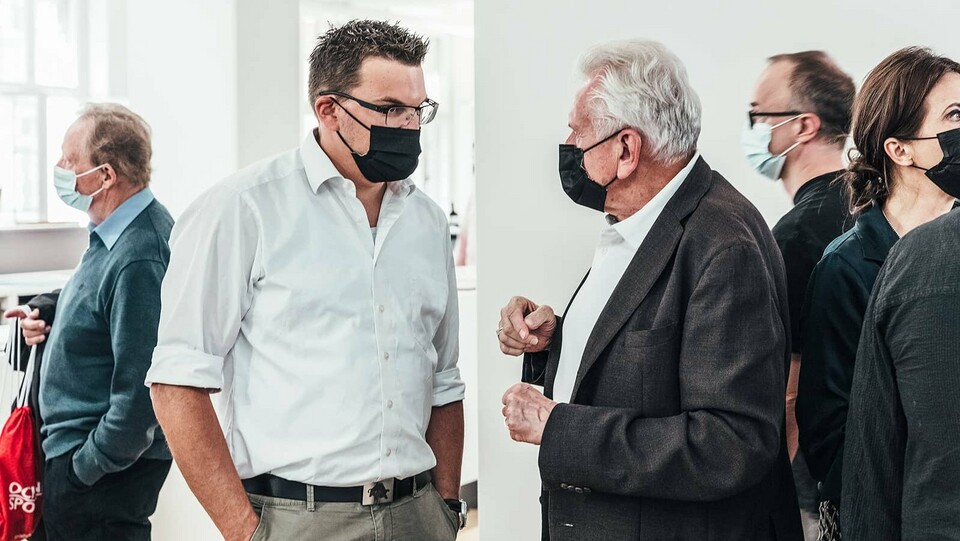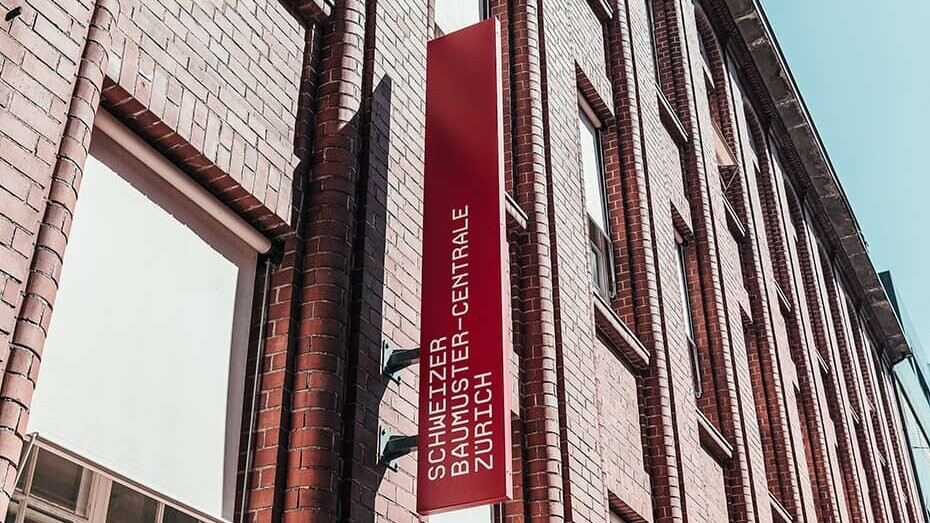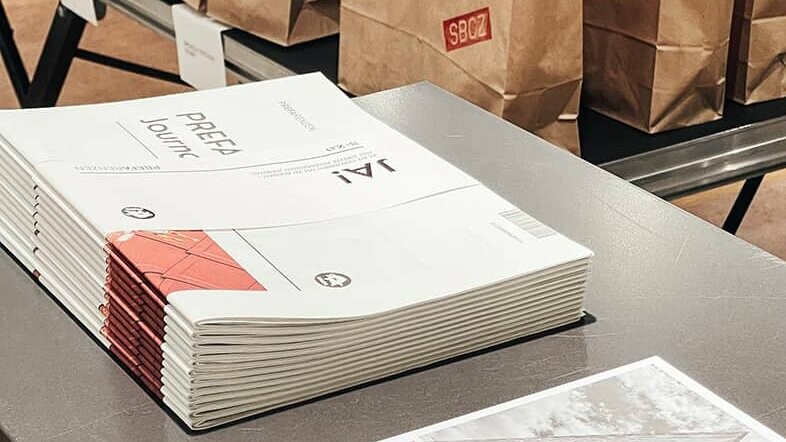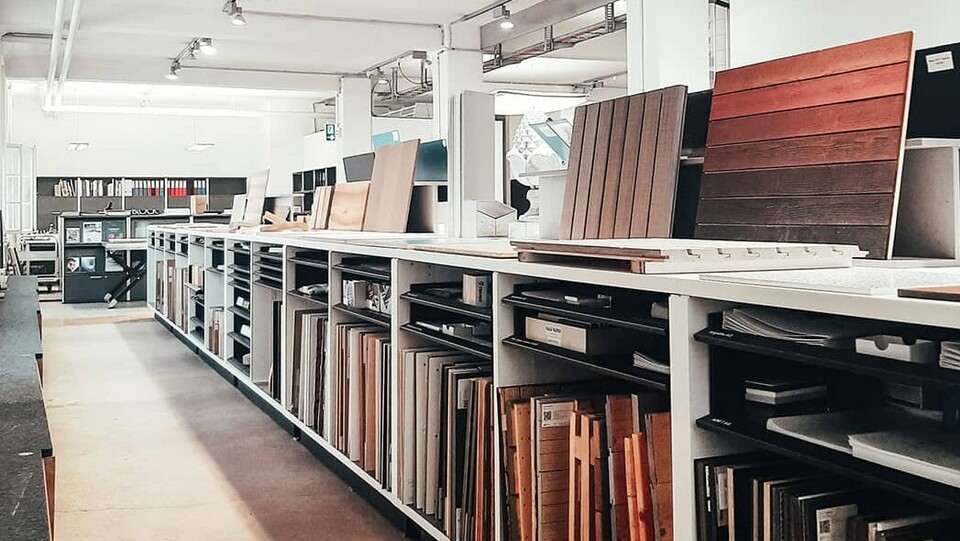 Text & interview: Claudia Gerhäusser
Photos: Croce & Wir