Architect and designer Sebastiano Longaretti works internationally and specialises in the planning, furnishing and design of children's furniture. For his own home near Bergamo, he chose an unusual and sustainable building style. More than 80% of the outer shell was clad with PREFA shingles in light grey. The building proved to be a success and was also nominated for the KlimaHaus Award 2022.
The entire property is located on a large meadow near a country road and is divided into four plots, each with a house in a different design. The families, who are related to each other, live here and form a communal structure.
Sebastiano and Emilia Longaretti's family, including their two children, wanted an ecological house with a total area of 190 m² and manageable costs. "Since the ground here is very damp, we decided not to build a cellar and instead created a reinforced concrete slab as a foundation," Longaretti tells us. The base was used for the construction of a modular skeleton made of beech plywood, which also dictates the actual volume of the house.
Effective insulation was achieved through a combination of OSB and foam boards with a depth of 16 cm. The construction time of two to three months could be kept very short because the architect used the proven system of LEAPfactory. The company is known for their fast and solid construction of houses in the alpine region.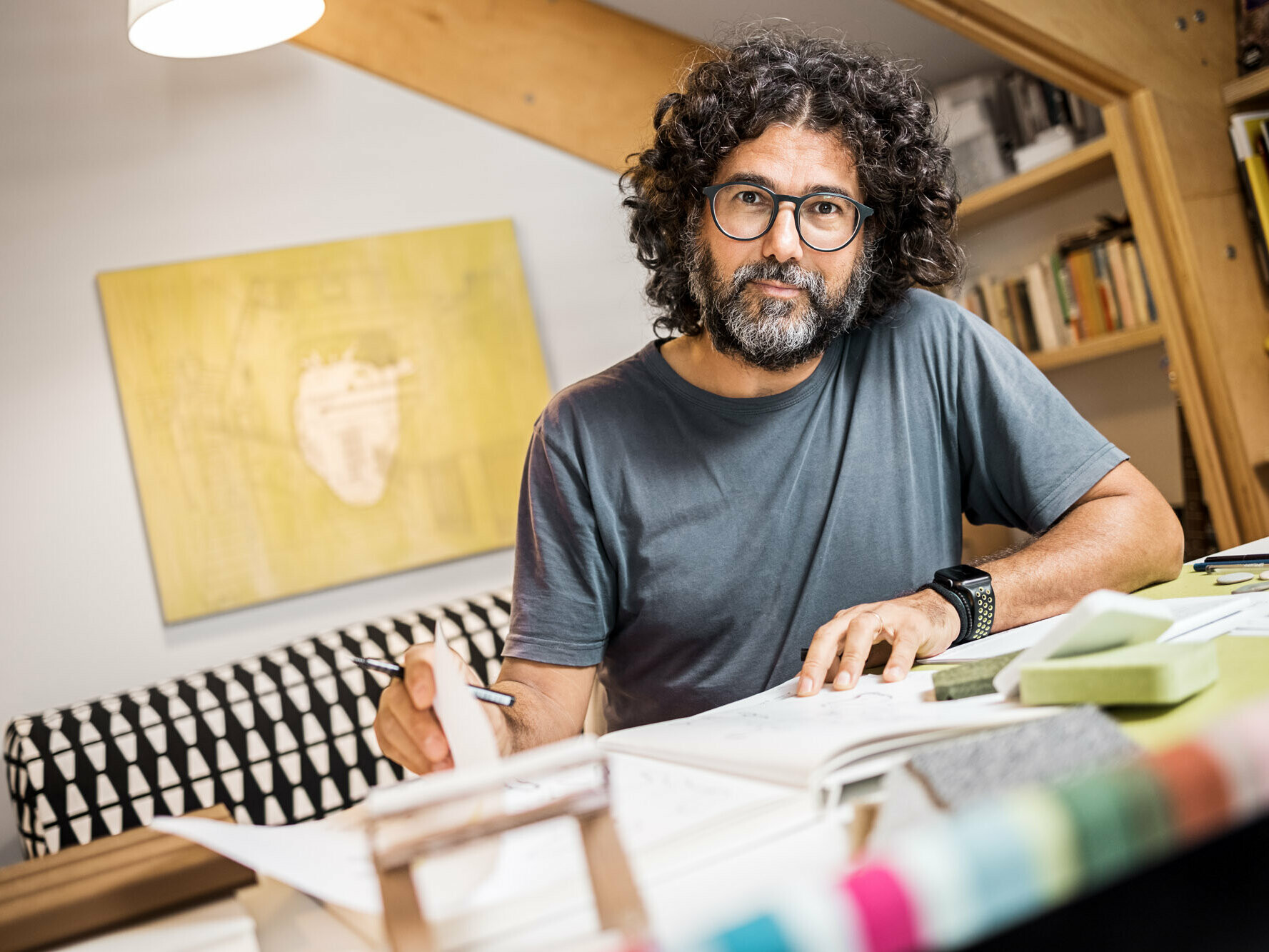 Sebastiano Longaretti's career as an architect has taken him to California, Korea and Japan, among other places. The experiences he gained influenced the design of his own house in Italy. He wanted to create a large, open space with plenty of room to model, play and paint. With a twist, he designed a shelving system between the visible plywood rafters in the interior, thus making use of the dual function.
Since 2020, Sebastiano has acted as project manager at the design company for children's furniture PLAY+ and been a partner architect of LEAPfactory. He is well connected and always open to new ideas. Besides his work as a furniture designer and freelance architect, he also pursues his passion of artistic painting. His studio is located on the upper floor, under the sloping roof. It provides a calming and protected place where he can express himself creatively in all directions.
His home has several features of a smart home and is also very environmentally friendly in many ways. The excess electricity from the PV system on the roof is stored. A heat pump provides hot water and heating, and the mechanical VMC ventilation system filters the air and ensures a good indoor climate. Another special feature Longaretti points out: "Overall, the house is built in such a way that it can be dismantled like a tent or even extended at any time."
He shows us a photo of tinsmith René Rustico from RCR srl working on the roof. "He took his time and laid the light grey shingles with precision and millimetre accuracy. Skill and ability were required to realise the concept of the round transitions between the roof and the façade," says Sebastiano Longaretti, who is satisfied with the result. The "micro-ventilated" and at the same time robust façade also scores in terms of sustainability with its recyclable materials.
Houses with dark façades and roofs are a rarity in the region. He is happy to explain the energy efficiency of the house to anyone interested who passes by. At an average of only one euro per day, the costs are extremely low.
Casa Longaretti - Details
| | |
| --- | --- |
| Country: | Italy |
| Object, location: | single-family house, Bergamo |
| Category: | new construction |
| Architecture: | Sebastiano Longaretti & LEAPfactory srl |
| Installer: | RCR srl |
| Material: | |
| Colour: | P.10 light grey |
Interview: Mara J. Probst
Text: Carl Bender
Photos: © Croce & Wir