Wood façades lend your house a particularly natural look. However, the properties of natural wood cause the appearance of the façade to change rapidly and start to weather. Those who want to spare themselves the chore of repainting and carrying out regular care and maintenance in future will prefer a high-quality, rear-ventilated aluminium façade in wood effect with a 40-year material guarantee.
Conventional (rendered) façades often become dirty after a relatively short period of time. Even when renovated and freshly painted, they often begin to look old again after just a few years. Extreme weather conditions can impair the façade materials in such a way that they become deformed and warped. Severe winters, hot summers and damp autumn months cause cracks to occur, flaked and faded areas of paint, algae or unsightly discolouration, especially on the northern side of buildings. Genuine wooden façade claddings are also subject to weathering. This leads to unsightly and irregular discolourations that can only be avoided by way of time-consuming regular maintenance of the wood.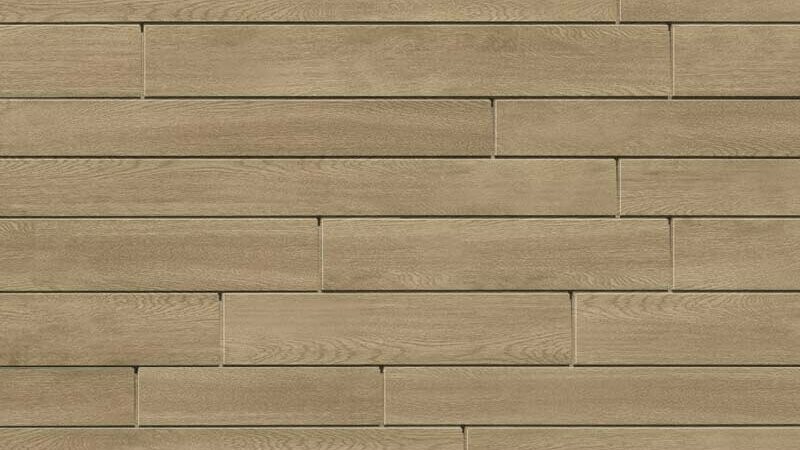 PREFA sidings in wood look are ideal for façade cladding and are available in three different wood colours.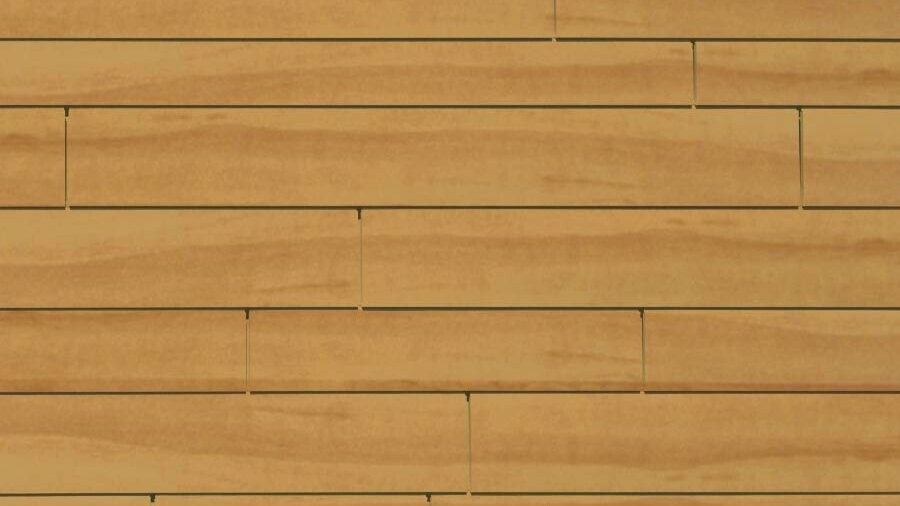 PREFA natural oak sidings
PREFA sidings in natural oak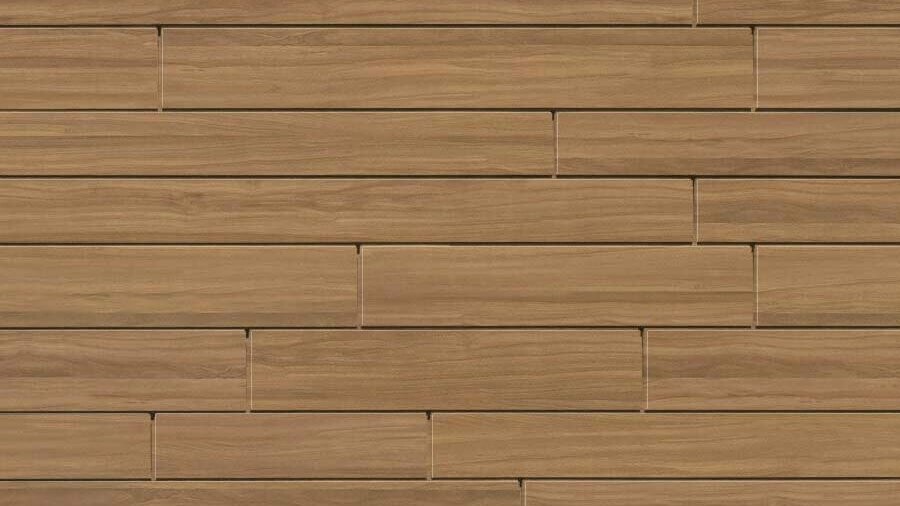 PREFA sidings in wood look save you the tedious repainting of the façade. The high-quality aluminium panels in walnut are manufactured as a rainscreen.
No more painting, no more mending: these are the requirements that property owners have for their façades today. Spare yourself the chore of repainting with PREFA's durable aluminium façade. With these wood-effect façade panels, even the most creative façade ideas can be implemented to perfection. PREFA sidings are façade claddings that are available in the colours 'walnut', 'natural oak' and 'grey oak' and can be installed vertically, horizontally or at an angle, and with or without a shadow gap.
Aluminium panels from PREFA can withstand any weather and are ideally suited for use on the side of the building most exposed to the elements.
References with wood-effect claddings
This modern residential building was partially clad with high-quality PREFA sidings in grey oak.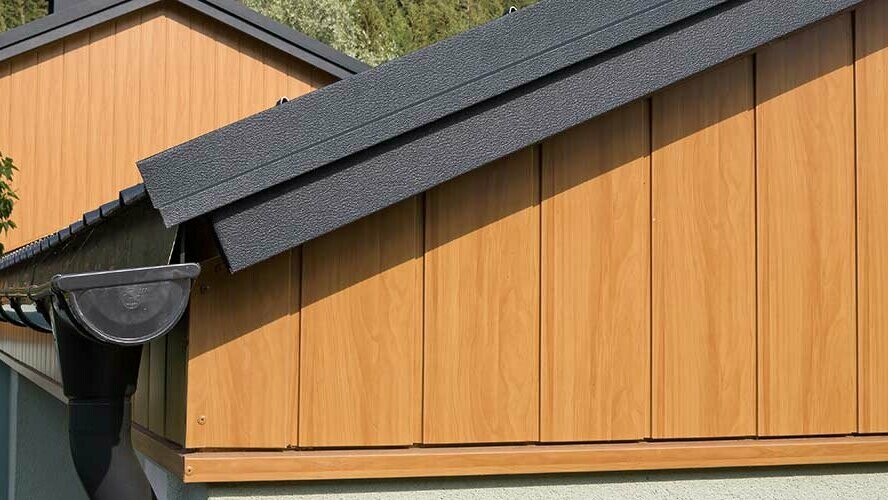 Gable cladding with natural oak sidings
Vertical installation of sidings with shadow gap and natural oak effect, with anthracite hanging gutter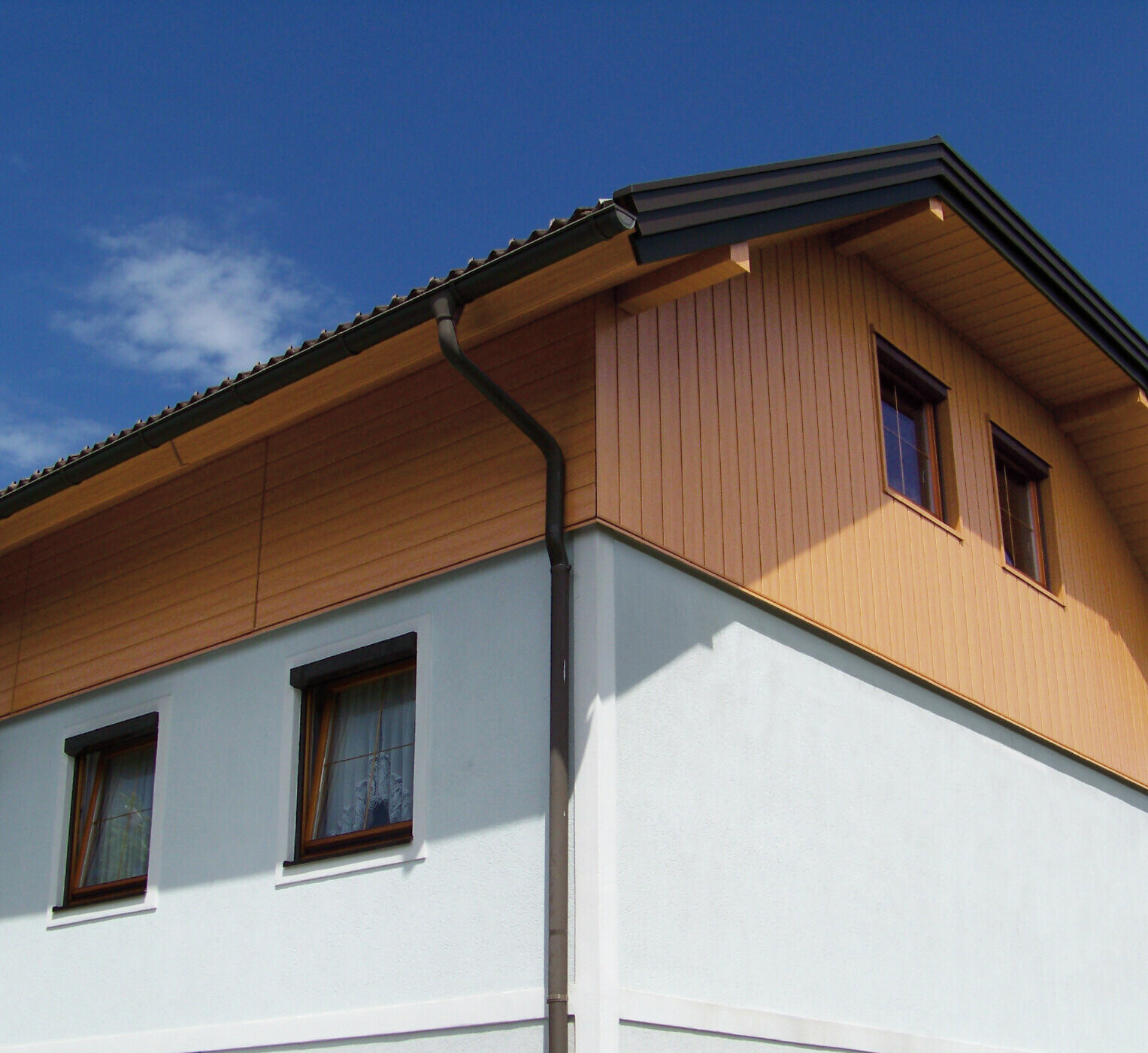 Façade cladding for the upper part of the building
Façade design with a combination of PREFA sidings in natural oak for the upper part and a rendered façade for the ground floor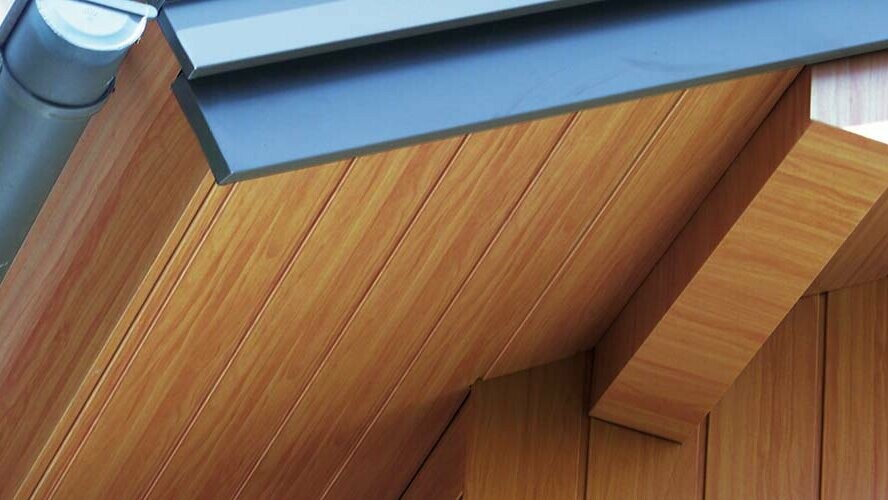 Low-maintenance soffit with natural oak effect
This soffit will never need to be painted again, thanks to the wood-effect PREFA sidings with shadow gap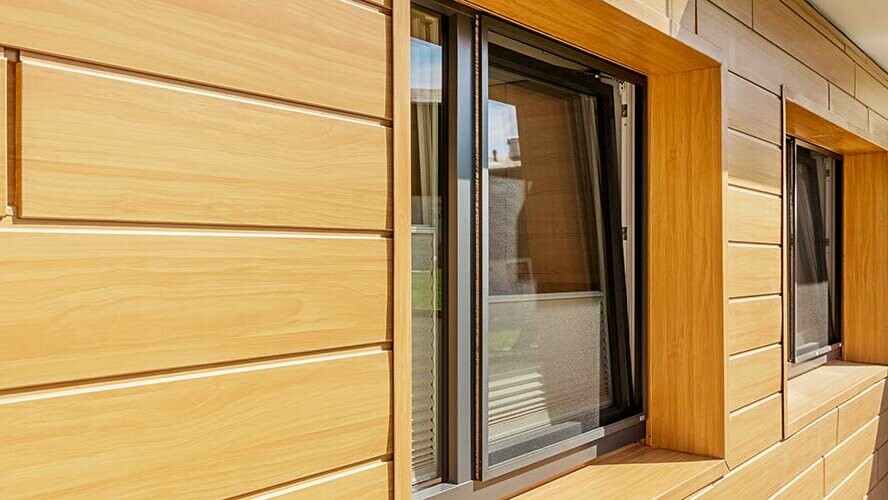 Wood-effect wall and window cladding
Horizontal installation of PREFA aluminium sidings with shadow gap in natural oak incl. wood-effect cladding for reveals
Dimensions: walnut

138 × 0,7 mm, Smooth
200 × 1,00 mm, Smooth

Dimensions: natural oak

200 × 1,00 mm, Smooth

Shadow gap

15 mm wide and 7 mm deepwith or without shadow gap possible

Weight

Ca. 3,30 – 4,30 kg/m² (depending on the width)

Length

500–2500 mm when using the PREFA gap500–6200 mm without using the PREFA gap

Installation

horizontal, vertical, diagonal

Colour coating

Duragloss 5000

Dimensions: grey oak

138 × 0,7 mm, Smooth


200 × 1,00 mm, Smooth
For all PREFA aluminium façades, the centuries-old and proven system of non-bearing, rear-ventilated façades is used. For one, this ensures a pleasant indoor climate as a rear-ventilated wall construction can help to regulate the moisture balance and prevent the formation of mould. Also, there are no limits to your creativity during the design phase, and your façades will enjoy an especially long service life.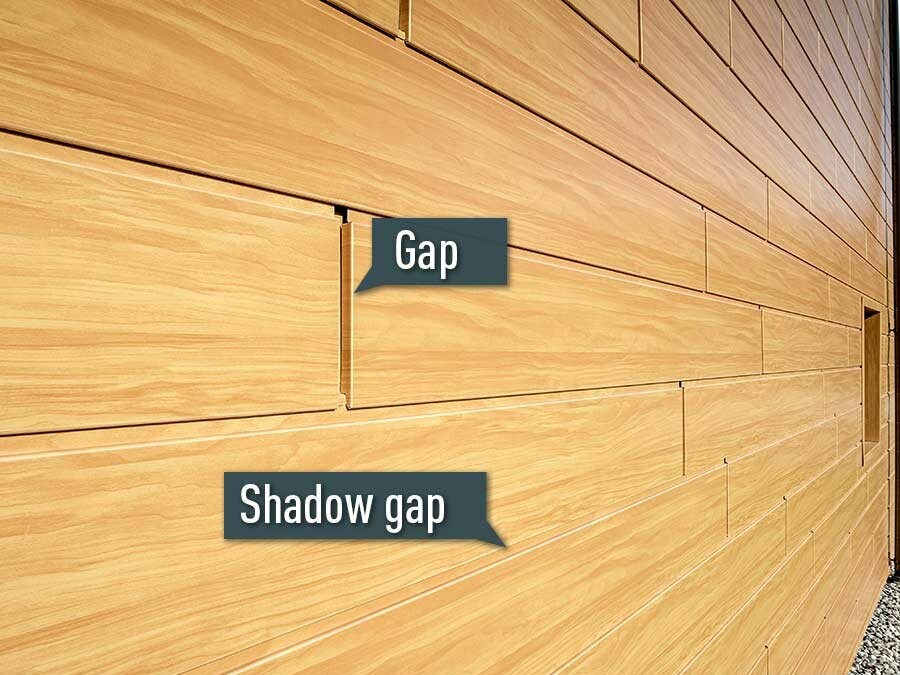 PREFA aluminium façade systems are extremely versatile in terms of their potential applications. They are suitable for both outdoor and indoor use, e.g. as gable, dormer or soffit cladding, or for car port, balcony, wall or ceiling cladding and much more.
Want to know how your façade will look with façade panels in wood effect (PREFA sidings, natural oak, grey oak or walnut colour)? Then why not use our free photo service? Just upload your photo and you will receive your processed image back within a few working days, showing your house with your preferred PREFA façade.
With PREFA sidings, you are opting for an aluminium façade with the aesthetics of a wooden façade, thereby combining a natural look with a durable façade that will last for generations. This is safeguarded by the PREFA guarantee certificate which has a 40-year material guarantee.