Andreas Gruber tells us about nature-oriented building and 'simplicity' as a kind of overall concept: when planning objects and choosing materials, but also regarding how he has shaped his own paths as an architect. The award-winning Obomilla forest chalets in Meransen in South Tyrol encapsulate an important idea – tourist accommodations can also be built with very little construction waste and sustainable materials such as Swiss pine from a nearby forest as well as PREFA aluminium.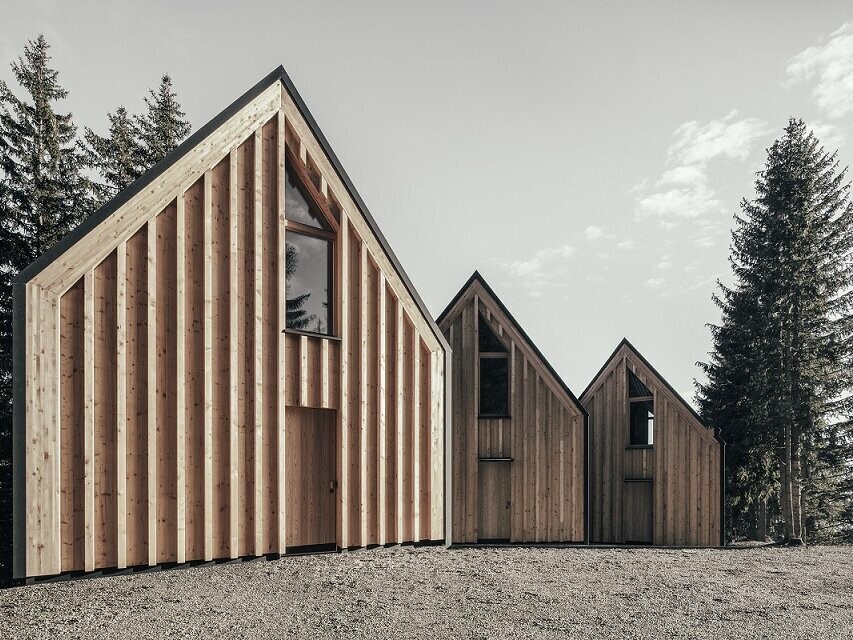 Andreas Gruber studied architecture in Innsbruck and Florence and employs three co-workers at his studio in South Tyrol, which was founded in the year 2008. He likes to put together an interdisciplinary team for special projects so he can offer his clients a special project quality. Living a down-to-earth and sustainable life is important to Andreas Gruber, who says that he does not find expanding very important, that he likes to work regionally and in particular: in a quality-conscious way. For instance, he moved his office from Bolzano to Schabs near Brixen where he lives, which saves a lot of time and resources. "It was a very good decision for me. The town can be accessed very easily and the connection to the Pustertal, Wipptal and Eisacktal is perfect," says Gruber. The small architectural office is currently working on several projects in the area of residential construction, hotels and public buildings.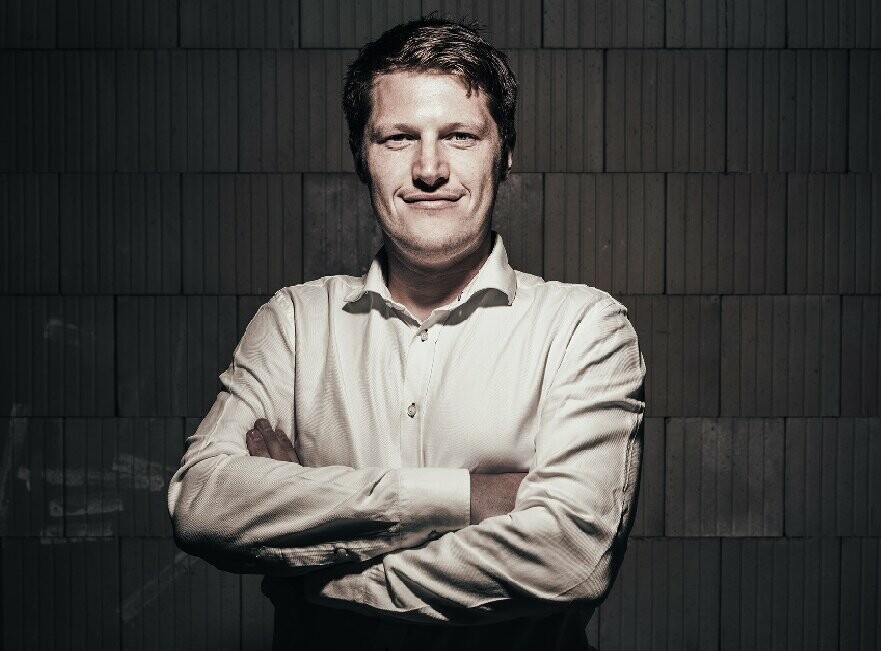 "Planning also means convincing people of a design idea. This work begins in a dialogue with the client." Andreas Gruber
"I want to build in a timeless fashion," says Gruber and reveals that many cosmetic renovations and fashionable new constructions are currently being realised in South Tyrol, particularly in the tourism sector. Oftentimes, expensive extras are used that look old after only five years and therefore need to be demolished soon. Andreas Gruber is convinced that "such a fast-moving approach does not have a future". In the Obomilla forest chalets, he found it important to focus on what is essential and get down to earth in the truest sense of the word. Therefore, the team deliberately did without an internal access to the spa as well as the yoga and multi-purpose room via a staircase. Part of the idea, he says, was to walk along paths and encounter nature while doing so. Just like in our great-grandmother's time, when you had to fetch your water from a well or walk across the meadow or the courtyard to the outhouse.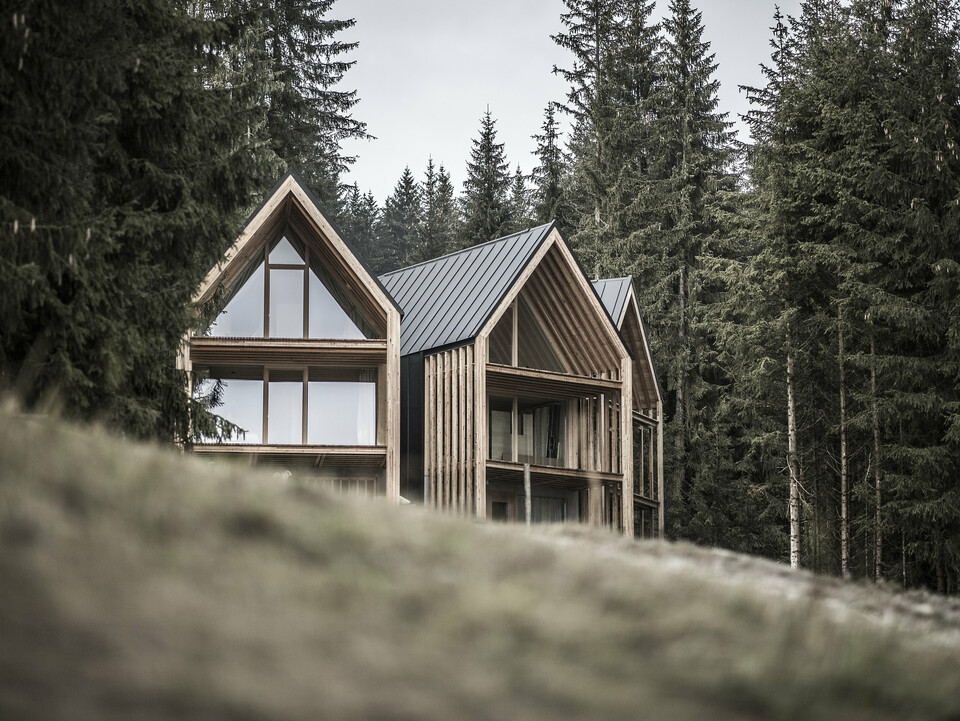 Every project starts out with analyses and very precise ideas about socio-economic and sustainable aspects. "We treat our surroundings with respect and great care," says Andreas Gruber. Obomilla is an old field name and used to mean "above the mill". The three chalets that discreetly integrate themselves into the landscape are located on a clearing at 1440 metres right in the middle of the skiing and hiking region Gitschberg-Jochberg. Placed on a joint concrete plinth, the chalets face south and are slightly fanned out: one towards the forest, one towards the Dolomites and one towards the meadow landscape. This way, the architect also manages to show the natural heritage of South Tyrol, which attracts many holidaymakers each year. "Since the project received the BigSEE Award, many international visitors, among them renowned architects from all over the world, have stayed at the chalets." The team of architects even met up with some of them to discuss the project.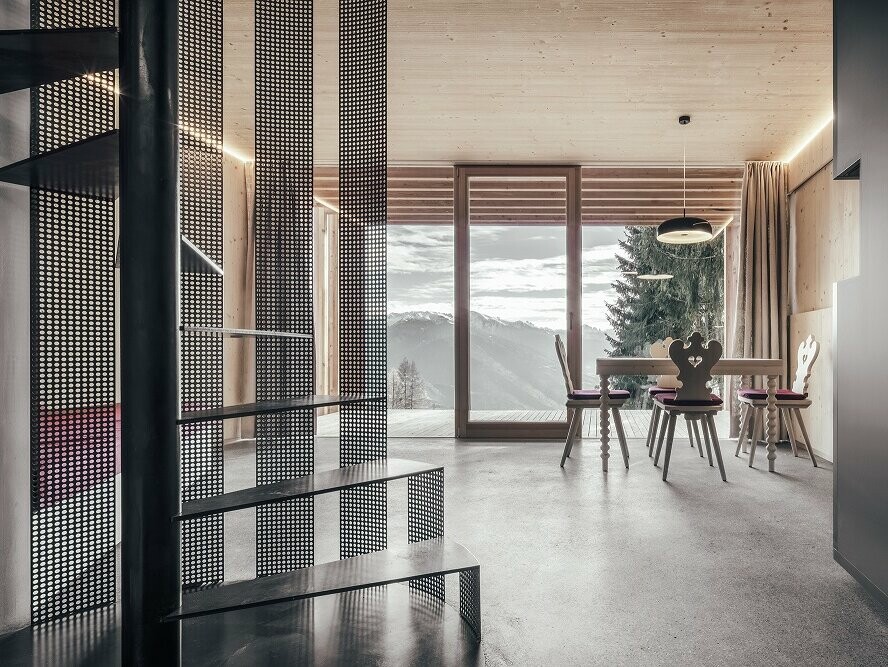 "We are proud to have received the BigSEE Award for the Obomilla forest chalets and are pleased with the resulting international response." Andreas Gruber
From a formal perspective, the architects based the verticalising façade design on the adjoining forest, where the spruce wood for the timber construction came from. The chalets stand on a plinth with a foundation made of reinforced concrete. "We barely touched the slope, so that excavation and filling balance each other out," says Andreas Gruber, who is very satisfied with the result. The structure and rhythmisation were modeled on the trees. The lateral wooden planks and the roofing of the balconies as well as the Prefalz roof and façade system followed this pattern. A look inside the building reveals that the abstract railing of the black steel spiral staircase also reflects this motif in vertical, open-split panels. Sheets and beams that face each other – but are not too close together. Paired with generous glass fronts, Andreas Gruber deliberately communicates an openness and breaks with a dim mountain hut flair, and maybe also with the notion of "what a mountain hut should be like".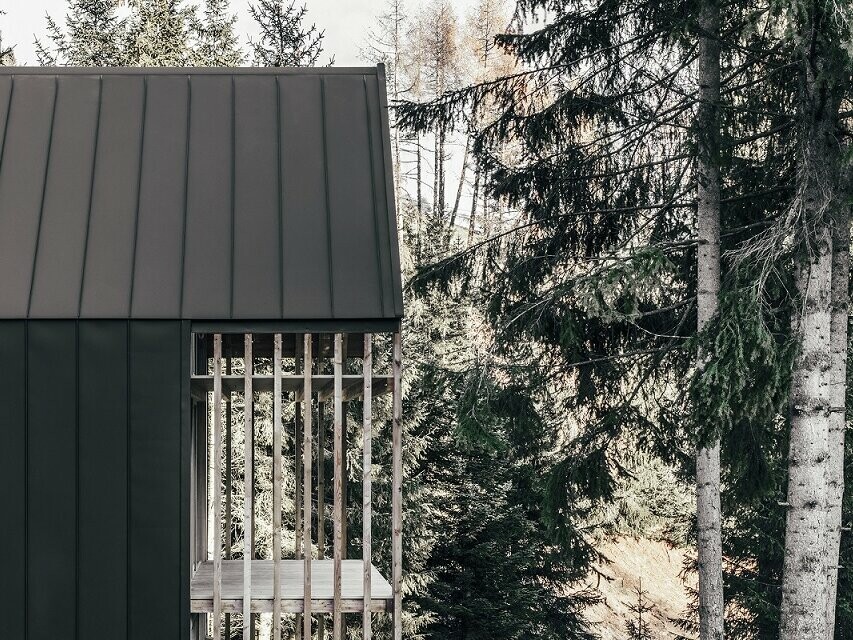 MP: "Who was the tinsmith in this project?"
AG: "Since I founded my studio in 2008, I have preferred working with local craftsmen from the catchment areas of the project locations. The tinsmith company Tecnometal SAS from Rodeneck carried out the tinsmith work for the project in Meransen. They're real professionals. It was not the first time that we used PREFA – our tinsmith is well acquainted with the PREFA products and material and laid the black Prefalz with a wealth of experience. The striking appearance of the sturdy building envelope contrasts with the natural spruce wood. PREFA was certainly the right choice for a building project in alpine territory like the Obomilla forest chalets."
Obomilla Wandchalets - Details
| | |
| --- | --- |
| Title: | Obomilla Waldchalets |
| Country: | Italy |
| Object, location: | chalets, Meransen |
| Category: | new building |
| Architecture: | Andreas Gruber Architekten |
| Installer: | Tecnometal SAS |
| Material: | |
| Colour: | P.10 Schwarz |
Interview: Mara J. Probst
Text: Mara J. Probst
Photos: © Gustav Willet, © Wolfgang Scherzer